THURSDAY night (June 10th) we left Stockholm by boat, a lovely evening on deck followed by a buffet dinner where you could eat as much as you wanted...same with beer & wine.....as much as you wanted.....This was followed by a few drinks in the bar and not so few drinks in the nightclub.

FRIDAY morning, early wake up after maybe 2 hours of sleep. 5 hour busride through a sunny Finland. Woods, woods, woods. We arrived in Alajärvi which is a SMALL town right in the middle of nowhere. The hotel was like from an American roadmovie, you know, a gas pump, a few rooms and a bar. We went to soundcheck and the arena was a baseball arena! I didn't know they played baseball in Finland, but that's a fact.

The usual scenario - back to the hotel, eat, sleep, shower, a beer or two, and off to the gig. The gig was ok, lots of mosquitos though! We did the same setlist as the earlier gigs. The stage was very small, and the crowd wasn't very big either (maybe 2000) so it was not a fantastic gig, but still ok.

Back to the hotel, and packed us into the bus for a 6-hour nightride to Oulo. (Uleåborg) This trip was SO cool! Sunrise over lakes, morning dew, yet another few beers and so on. Some of us stayed up almost the whole ride.

SATURDAY we got to Oulo around 7 o'clock in the morning, checked in at the SAS Radisson Hotel, had breakfast and went to bed. Good to get a few hours of sleep. Soundcheck, dinner, shower, beer - Showtime! OK gig, same small stage as yesterday, bigger crowd and better gig overall. We played a new song - I'm Flying from the "Last Man Standing" album. It worked real well and will probably be part of the show from now on.

SUNDAY morning 5 o'clock the bus left for Oulo airport. We flew Oulo-Helsinki, Helsinki-Riga and Riga-Kiev. Went to soundcheck, the hall was gigantic! Kiev was very "east" - everything was brown or grey and very worn-out. The hotel was ok, though. The gig was FANTASTIC!!! 6-7000 Ukrainians went crazy and took us with them! It was also unbelieveably hot on stage.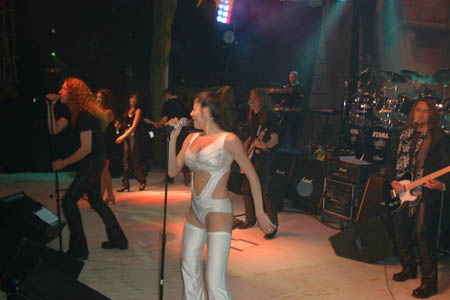 Afterwards we went back to the hotel, had a shower and went for dinner at a nice restaurant. We also had lots of colourful drinks with umbrellas in them...

MONDAY was spent travelling. We got back to Stockholm around 8 PM.

TUESDAY the bus left Stockholm at 8 AM. I (Johan) woke up at 8.30... I luckily managed to gather up with the guys just south of town. 8 hours later we rolled into Hässleholm in the south of Sweden. There was a city festival and we played in a huge tent in the middle of town. It was great to be back home in Sweden. People understand what you say to them!! The gig was quite ok, but we were all very tired. We got aboard the bus a few hours later and got back home to Stockholm 8 AM WEDNESDAY morning. Phew!!!

/Johan