Select language:



» Introduction

LMS Tour 1999
» Tour Dates
» Tour Diary

E4E Tour 2002
» Tour Dates
» Tour Diary

Euro Metal Tour 2003
» Tour Dates
» Tour Diary

LPSL Tour 2004
» Tour Dates
» Tour Diary

Various Live Shows
» Show Dates

Concert Reviews
» View Reviews
» Send Review



Tour Diary [Euro Metal Tour 2003]
This part of the site has not been translated yet
Part 2: Official sites going for the premiere opening of the tour!
Written by Morten (webmaster)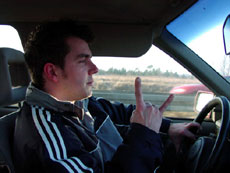 Danny in the car going to Gothenburg!
(Photo: Nikolaj)

Friday, 00:25 AM - about 24 hours until showtime - Nikolaj (co-webmaster at this site) had just arrived to Kolding where Morten (webmaster at this site) now lives. The preparations were about to start for the tour. We spent a couple of hours talking back and forth about the trip and about personal matters while we watched E-type videos and did other things. We didn't get to sleep before 5 AM :)

At 9:30 AM we woke up, since we needed to prepare for our Dutch website-friends, Danny and Florian, to come to Kolding as well and at 10:45 they were here. We relaxed a bit and at noon we left the city of Kolding and went towards Frederikshavn so we could take the ferry to Gothenburg. The trip to Frederikshavn was quite fast - we listened to records and spoke a lot of this and that and especially about how the new Euro Metal sound would be like.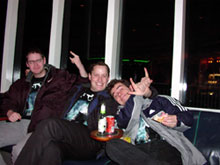 Florian, Morten and Danny on the ferry!
(Photo: Nikolaj)

2 hours with the Express-ferry passed a bit slow since there wasn't really anything to do on the ferry, but we got something to eat, shopped a bit in the toll-free shop and went on the deck to shoot a few photos - just for fun :)

Well arrived in Gothenburg we started searching for Avenyn (the street where everything's going on). This is the street where you'll find the restaurants, bars, nightclubs and such ... and it's also the street where Nikolaj and I went to Babar Restaurant 3½ years ago on May 26th, 1999 after the E-type concert at Liseberg, since that was the place where they were going to eat afterwards. So it was a bit fun to see that place again. We quickly found Valand nightclub, but they weren't open yet, so we went to eat at McDonalds and afterwards to walk around the city for a bit.

At 8 PM we entered the nightclub on guestlist and sat by a table to get a beer (there was still 4 hours to showtime). During these hours of waiting a lot of people came by our table either to comment on our T-shirts or talk to us about E-type. A bit past 9 PM Lasse P (E-type by Lasse P) came to the nightclub. He was there to experience his 37th E-type show, and he joined us for the rest of the evening. Time was going a bit slow at the nightclub, but there was always something nice to look at :P. At 10:10 PM Danny was broadcasting live from the nightclub to the local radio-station in the city, he lives in (Baarn FM), so it was pretty great to hear how our experiences could be shared in Holland. 1 hour before showtime we decided to get nearer the stage, since we had heard that they would let people in to the stage, so everything would be set and ready when they would blast away the roof at midnight, so we went there right away and got 1st row.

Before the show we could see that the crew had placed the tracklist of the show on the floor, and here it is:


Africa
Russian lullaby
I just wanna be with you
Set the world on fire
Angels crying
Free like a flying demon
--------
Drumsolo
--------
This is the way
Here I go again
--------
Life
Back in the loop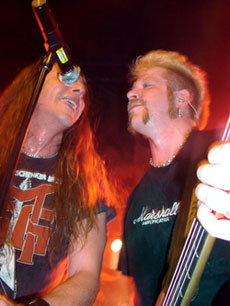 E-type and Johan live on stage!
(Photo: Nikolaj)

Finally - the moment we had all waited for was there - the new official intro was playing in the speakers, and the guys were entering the stage. Africa was bursting out, and E-type suddenly stood right in front of us smiling, headbanging and ready to blow it all away. Next to him were the 2 lovely backup-singers Linda Andersson and Therese Löf. Pontus Norgren on guitars standing at the left side of the stage while Roger Gustafsson (guitar) and Johan Dereborn (bass) were on the right. Mikkey Dee banging away on the drums in the back ... this would without a doubt turn out to be a fantastic evening.

E-type and Johan quickly spotted us all (Nikolaj, Danny, Florian, Lasse P and myself) in the crowd, and E-type was sending looks and shaking hands with us. Throughout the show we got to hear how all his euro-hits sounds like in heavy-metal and one thing is for sure ... the crowd still loves it. The music is faster and added a lot more guitars, since there are no keyboards now. Add 2 beautiful backup-vocalists like Linda and Therese who are always up on the beat, and you have a really awesome show. E-type fires away all of his greatest hits with great confidence and elegance, and he sure knows how to rule the stage. What really amazed us was the way they had converted the euro-hits to heavy-metal and still making them sound incredible and without loosing the old euro-touch we had heard at the summer tour. Though a song like "I just wanna be with you" sounded somewhat different from the summer tour, and it's obvious why, since it needed to be speeded up to sound great in heavy-metal.

E-type loved to "play" for the audience - he gave his microphone very often to people in the audience so they could sing along ... the microphone also came to us quite a few times. Danny got to sing along on "This is the way" which was respected from the stage, Nikolaj and I sang along on "Here I go again", and finally E-type gave me the microphone, so I got to sing "Life" on my own. He obviously must have seen how enthusiastic we all were, since we got to sing along so many times, and we can't say that our voices were any good after the show :)

Anyway, a fantastic concert ended with a real heavy-metal classic, "Back in the loop", which got everyone on their toes one last time. A concert that would get 5+ out of 5 in my book. No doubt about that.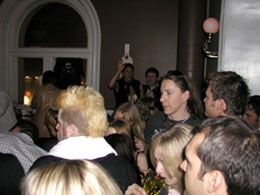 E-type and Johan in the big mass of people!
(Photo: Morten)

After the show we waited a bit for the band to come out, so we could talk to them, and while we waited Danny, Florian and myself were interviewed by some photographer-guy who also took some photos of us, since we were wearing identical Tour IV Ever T-shirts, so watch out for those photos of us :) After a while Johan got out to greet us and told us they would go down at the end of the nightclub to have a few drinks and that we should join them there, so we did. We got to talk to Pontus Norgren at first who had noticed us during the concert, and as we got to the "VIP-zone" we meet Johan and E-type there as well. We talked a bit about the show and gave them two thumbs up which really was re-assuring for Johan. He actually told us that "as long as you guys think the show is great, then I'm satisfied and happy" which also made him more certain about the performances later on. He was a bit worried about our "verdict" since there is quite a difference from the summer tour concerts to these Euro Metal tour concerts, so knowing that we loved the show made him calm.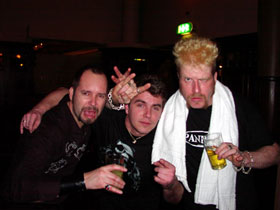 Roger, Danny and Johan at the nightclub!
(Photo: Nikolaj)


Later on during the after-party Johan and Roger joined us to chat a bit about this and that, and during the conversation we showed them a lot of the photos we took from the concert, and they absolutely loved them! Roger actually told us that he would love to get them all, since he has always seen the press just releasing 1 or 2 photos when they make a review, but he wants it all, since he thinks it's always fun to see a lot of photos from the concerts which gives him a better impression than just a few photos!

It was now 5 AM and the nightclub was about to close, and since about everyone from the band more or less had left, we thought it was time for us to leave as well. A great evening had ended with a great outcome, and it was about time to be heading home!

At first we went to a 7-eleven to get something to eat and drink, and then we started walking towards the ferry.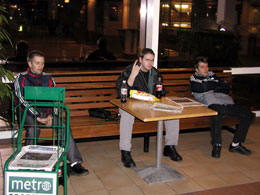 Nikolaj, Florian and Danny exhausted and
waiting for the ferry!
(Photo: Morten)

At 5:45 we arrived there and had to wait for 1½ hours so we could board the ferry and be on our way home. We tried to sleep during the entire journey - it was hard but it succeeded pretty well. Well arrived back in Denmark, we drove from Frederikshavn back to Kolding (after a short stay at a McDonald's and a gas-station in Skanderborg) where we arrived at about 1:30 PM. About 3-4 hours later, Danny and Florian drove back to Holland, and Nikolaj and I were left. After a lot of talking about the trip, getting a pizza, relaxing and such, we went to bed. For the last 62 hours we had only got about 6 hours of sleep, so we were pretty exhausted by now, and it was great to get some sleep :)

Yet another successful trip to Sweden to see E-type had come to an end. We are really looking forward to hit the road again - maybe we'll see you there?!


/// Morten
webmaster

On behalf of the www.etype.dk and www.etype.nl crew.