Select language:



» Introduction

LMS Tour 1999
» Tour Dates
» Tour Diary

E4E Tour 2002
» Tour Dates
» Tour Diary

Euro Metal Tour 2003
» Tour Dates
» Tour Diary

LPSL Tour 2004
» Tour Dates
» Tour Diary

Various Live Shows
» Show Dates

Concert Reviews
» View Reviews
» Send Review



Tour Diary [Euro Metal Tour 2003]
This part of the site has not been translated yet
Part 4: Awesome weekend in Sweden with an E-type meeting and a concert
Written by Morten (webmaster)
February 15th I went to yet another concert, and I can without a doubt tell you all that it was one of the greatest experiences I have had so far ... not just because of the concert, but also undoubtedly because of the rest of the weekend I experienced together with the sweetest people the world has ever seen. 4 people made my weekend a real blast - Lena, Gunilla, Anders and Carina. Thank you all for a wonderful weekend!!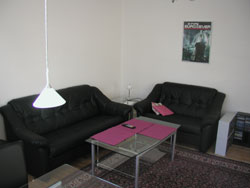 From my apartment before departure!
Notice: E-type poster on the wall!
(Photo: Morten Pedersen)

Well, back to the start of this story which takes its beginning about 32 hours before the show starts. It's friday 3:30 PM and I had just boarded the train from Kolding (my new hometown) to Copenhagen on my way to Sweden. After Copenhagen I took the train for Helsingør where I arrived at 7 PM. The ferry ride over to Helsingborg took 20 minutes ... Well arrived in Helsingborg I stood at the entrance hall waiting a bit. First of all, I was waiting for Carina (Stingbat's sister) to come with the next ferry, but I was also waiting for Lena and Anders (Gunilla was at home) who I was to spend the entire weekend with in Ängelholm. This summer we also attended a concert together at the Tour IV Ever and that was also a great experience.

Anyway, at 8:10 PM or so as we were all assembled, we went by car to Ängelholm - which is about 35 km north of Helsingborg - where Gunilla met us with great joy. She had stayed home to make dinner (tacos - obviously a very typical dish at my E-type meetings. Danny at www.etype.nl will know what I talk about - hehe) which was great, since the long journey had made me kinda hungry :) After the dinner we were shown around the house (lovely house btw.) and shown where we were to sleep and all. Anders showed me his "toy" -> his computer on which he's made some cool music. Throughout the evening we sat talking a lot, enjoying ourselves and watching some E-type videotapes I had brought - something the other "E-typers" enjoyed to watch (I hope - hehe). At 1-2 AM or so we went to bed.

Saturday morning we woke up, got some breakfast and sat down once again with the tapes for the remainder of the morning. In the afternoon all of us went for a stroll through the neighbourhood which was fabulous - afterwards a bit of sightseeing was scheduled, so we drove a bit around Ängelholm. As we got to the center of the city, we saw "The Yellow Danger" parked at Hotel Paletten which means that E-type and the band already was in town and obviously living at a "pretty boring average swedish middle class hotel" as Johan Dereborn stated it. From there we went down to the beach and walked around there for a while ... it was a weird feeling to walk on a beach when there's snow :) As we got "home" we began to prepare for the concert and changed into our E-type outfits, as we were invited to watch the soundcheck at Ekebo which would start at 6 PM already.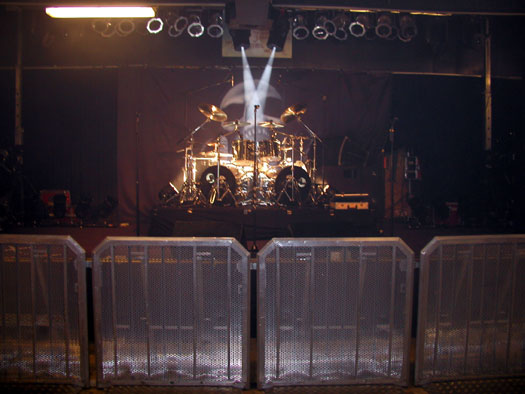 The stage as it looks without the band
(Photo: Morten Pedersen)

Ekebo was located about 4-5 km east of Ängelholm - kind of in the middle of nowhere - we even had trouble finding it :) We got in even though the place was still closed, and we were taken to the place where the concert would be. The guys were already on stage rehearsing and doing the soundcheck. We stood there quietly and enjoyed it. Strange feeling to see my favourite artist / band (E-type wasn't there at the time though but still) on stage playing the songs I like so much, but there were no people around to hear it other than crew members. That was an experience I had never had before, so it was a very special feeling about it all. After the band were done rehearsing we spoke a bit with Johan, Roger and Pontus from the band ... great guys!! They went to dinner and so did we ... in the other room of Ekebo there was a big buffet so we went for it. And what do you know!?! There was also tacos in this buffet (tacos haunt me at E-type events - hehe) - not that I matter at all, because tacos are really great, but it's funny, isn't it? :) Anyway, we sat by the table talking, eating, drinking and joking with eachother for a while. At 9 PM or so Lasse P (walk.to/e-type.net) joined our table. At 10 PM they re-opened the doors to the stage and we went in to get our "usual" spots on the front row. Still 2 hours until show-time but we didn't mind. We stood at the front row looking at all the others dance on the dance-floor. ½ hour later Johan SMS'ed me if we were ready to rumble!! I told him that we sure were and that we were already at the stage waiting. Johan was obviously pretty stunned to hear that as he replied with an "Already!?!" (Later on I found out that at that time, Johan was standing half-naked on his way IN to the shower, and we were already at front row ... that's what was so surprising about his reaction - hehe). Time went slowly by, and more and more people came in and gathered around the stage. Finally it was time for the show!!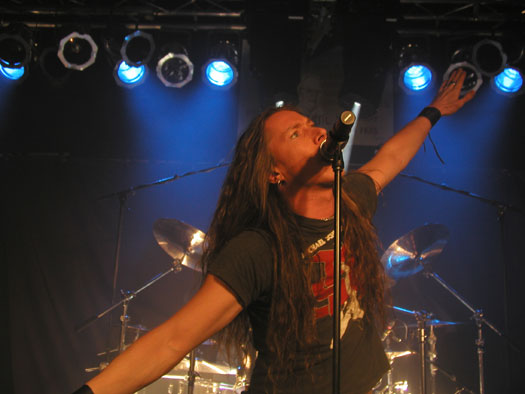 E-type 'free like a flying demon' on stage!
(Photo: Morten Pedersen)

The digital camera was all set and ready to launch away with photos. Already at the intro the massive pushing began (I don't understand why those Swedes need to push so hard - they can't get any closer to the stage anyway!) and it lasted for the entire show. Already at the first song (Africa) Johan noticed me in the crowd and as soon as the song was over, he went out to me and gave me a beer. But the beer seemed to be a bit of a problem for me, since I had the beer in one hand, the camera in the other and I also had to be careful about all the pushing, so for a while I had trouble figuring out what to do :) So I decided to drink most of the beer - gave some of it to Carina - and put the empty glass away, so I could resume my photo-shoot. Early in the show E-type also noticed me and he came down and "High Fived" me :) That made some Swedes behind me pat my shoulders and ask if I knew him, and well - I could just say, "yeah, of course I do" :) The show itself was absolutely fantastic ... WAY better than the gig in Gothenburg I went to 1 month earlier. I'm really impressed of Mikkey Dee and how fast he can play those drums - it's amazing to witness :) A thing which I thought was awesome about the show and the band was that as I took photos everyone on stage was aware that I was in the crowd taking photos and they would pose for the camera, which means that I got some photos where they look directly at me, and that's really a great thing to see!!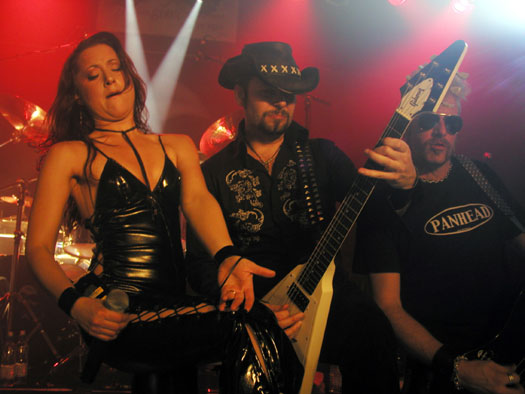 Therese, Roger and Johan jamming on stage!
(Photo: Morten Pedersen)

Halfway through the show Niklas (the tour-manager) enters the stage with a big cake with glittering lights and someone on stage suddenly got a big surprise. It was Linda Andersson's birthday, so she was a bit overwhelmed. She also got some champagne from E-type which he tried to make her drink of :)

The concert ended probably with 2 of the most famous live-tracks E-type has ever played - "Life" and "Back In The Loop". These songs are without a doubt songs that can blow the roof of any place. They are so awesome!! At the end of the concert E-type gave the microphone to someone in the crowd, so that person could sing, but as the song was over, the microphone was still not back in E-type's hands. The microphone was stolen, but Niklas (tour-manager) quickly came out and got hold of the microphone again (who would steal a microphone from a concert? I mean, come on!!). Anyway, As said earlier, I think this concert is WAY better than the one in Gothenburg, so I'd give this concert a 10 out of 10.


Phew ... as the concert was over, we went out in the lobby to catch our breath again and get some water ... it was darn hot at the concert, so we were all pretty sweaty. After 15-20 minutes of waiting and talking about the show, Johan came out, and we met up with him. After finding Roger in the club we all went for the backstage room where there were limited people around. We met everyone in the band and said hello - we were offered all the drinks we wanted, and we could even have some spaghetti if we wanted to :) E-type was sitting at the corner table controlling the music and talking to some people. As he saw us, he was on his feet to meet us with hugs and a little chat. He apparently had a bit of a cold, so unfortunately he wasn't that talkative. I spoke a bit with Roger at first and showed him some of the photos I had taken at the concert, and he was really anxious to get them :) Afterwards I talked a lot with Johan about the concert and some more subjects. During the backstage-visit we got to take a few photos for our private collections which was pretty cool.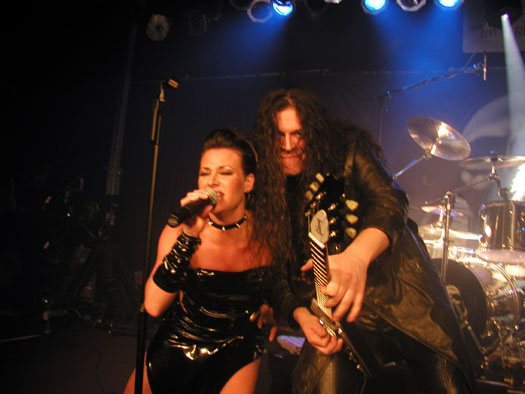 Linda and Pontus rocking hard!
(Photo: Morten Pedersen)

It was now close to 3 AM and the club was about to close, so the band had to move on. While going down to the bus, Johan and I spoke about this and that and thanking one another for a great time. After the band left out of the backdoor, I went back to the club through the stage, and a Swedish woman started speaking to me - she was clearly drunk. She wanted me to fix her an autograph from E-type - something I couldn't do as they had already left. But she was persistant and told me a long story of her meeting E-type before, but she had no pen, and now she has one, and jada jada jada - I can go out and get the autograph for her. But no can do!! Realizing she couldn't get it, she just gave me a hug and left (weird?). Anyway, we went back to Ängelholm, sat down and had something to drink while looking at the photos we had shot during the concert. At 4 - 4:30 AM we were really tired and went to bed with yet another great E-type concert on our minds.

Sunday morning we got up and got breakfast. Lena went to her own place to see if there was something in the local newspaper about the concert, but no luck there yet - she also got her own photos developed which I got a copy of (thanx a lot, Lena - it was very thoughtful of you!!!). During the morning and afternoon we sat relaxing and watched some more of the E-type tapes I had. At around 4:45 PM it was time for Carina and I to be heading back to Denmark, so we said our goodbye's and Lena drove us to Helsingborg where we could catch our ferry to Helsingør. 4 hours later - after going by train from Helsingør to Copenhagen - waiting there for ½ hour - again by train from Copenhagen to Kolding, I entered my own apartment in Kolding at 10 PM exhausted but happy after spending a maaaaarvelous weekend in Sweden!! It is absolutely not the last time I have had a weekend like that (hint, hint - Lena, Gunilla and Anders).

Thank you Sweden!!!! Thank you Ängelholm!!!! Thank you Lena, Gunilla and Anders!!!! You were the greatest hosts, and I wish I could repay you in some way :)))

To everyone else reading this ... Take my advice and go to a concert with E-type ... To quote a line from E-type's "Here I Go Again" ... "You can be sure this is the ride of your life" - and it sure is!! Trust me!!


Bye for now!!!


/// Morten
webmaster