Written by Myra

Valentine's Day. The day to spend with the ones you love, the day when you can express all your hidden feelings but still a regular day, when people have to work. Among others, E-type. On Valentine's Day, the Heart Association of Finland (www.sydanliitto.fi) arranged a massive concert in Helsinki bringing together various Finnish artists, and of course to show that the friendship can cross borders, also some artists from Sweden. Andreas Johnson, Charlotte Nilsson, Pandora, Robert Wells ... and most importantly, E-type, performing for the second time in Finland in a short period of time.

What does Valentine's Day mean to E-type? "It's a bit too American for me. I think friendship should be valued every day. But for charity's sake, I'm willing to perform on a Valentine's show especially when it's for children!" Also the concert arranger is very happy to have E-type on the show. Everyone knows that when E-type's name is on an artist list, the tickets will definitely sell. And for charity, that's good indeed.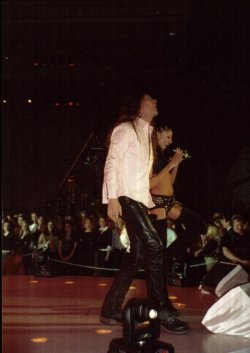 E-type and Dee on stage

Friendship sure had been valued the night before. E-type had been out partying with an old friend, the bassist of the band, Johan Dereborn. The "boys" had been partying the whole night, and had hardly slept at all. Seemingly they were very tired. "How's life, Johan? – I'm tired, I'm hungry, I have a terrible hangover ... Martin and I came home at 6 AM this morning, so ... but otherwise life is absolutely great!" The same seemed to fit to E-type's situation. He was very attached to his mineral water ... Wait a minute ... Mineral water?!

I have a feeling that E-type was asking more questions during the interview than I was. After the obligatory "how are you's" he wanted to know about how the site is doing. The site seems to be lingering on, but what do you like of that, Martin? Do you find fansites important to you? "Yes, absolutely. I think it's wonderful that there are people who want to do them." He also knows that www.etype.dk has been under serious threat of being closed as Universal Denmark hasn't been willing to continue paying for it. "I think it's ridiculous, the record companies should take care of artist promotion, and the websites are important for it. There have been problems with the Swedish site too, and I've even been paying some of it from my own pocket. But you know I can't go paying for every site made of me. It's not right. But I am doing my best in finding a sponsor for the site (etype.dk). This would mean it will say something like "coca cola" as you open the page. I don't really care what it says, as long as the site can go on". "It is after all the best site", Johan wanted to add. And E-type is nodding his head, agreeing. "I just can't understand Universal Denmark. This can't really be a financial problem or anything!" Maybe it's some problem of Universal Music Group. At least Universal Finland has told, they don't want to have anything to do with the site. They don't care. And E-type tells me, he knows about that, giving a quick look to the representative of Universal Finland.

Well, that's enough of the site. We can talk about that later. But what will happen next? "Well, right now I'm busy with promotion, and the new single, Africa, of course. We made a totally new remix of it with Max Martin. Did you hear it already, by the way? It's been released to the radio already and to sales ... I guess the release is somewhere in March." The remix is totally new. It had its world premiere right there in Helsinki, Finland. Even the bassist Johan Dereborn had heard it for the first time only a bit earlier at the rehearsal/sound check. "It's awesome. Totally different from the album version – absolutely great. As you can imagine", he says. And he was right. The sound is more interesting than on the album version. And the audience went wild. E-type was jumping on the stage like he had never done before. And that was the destiny of the cameraman of Finnish TV. But don't worry! He wasn't injured, even though one could think so, as a man on E-type's size jumped on him. The camera was damaged, though. ;)

Is there anything else to tell about the future? "Well, right now I'm concentrating on promotion, and the release of Africa. Then I will also have to do plans for the tour in summer ..." The whole question of a tour is still open. Nothing has been decided yet. Now, what next? We have already seen our favourite artist try his wings as a TV-show host, a hardrock drummer, euro-disco musician, author, and a computergame-designer ..."There's also something about Sveakampen ...?" "Well, the computergame is finished by now ... and I'm writing a sequel to the book. The same main characters will remain, but the story will take place 5 years after the things in Sveakampen." So Sveakampen was a success? "Yeah, it's been liked of, and there has even been requests to do a movie of it! It just would have been too expensive to build a whole Viking-village for the shoot, so now I'm writing a manuscript for the movie trying to make it cheaper to make!" And what about the next E-type album ...? There's no use in asking about that, since E-type is a man to learn from his mistakes and if anything he has learned not to talk too long to the future since the plans can change a hundred times. So we just have to wait. Whatever, whenever, I'm sure it will be great. As everything from E-type has always been, is, and always will be.

The boys were so hungry and suffering that we couldn't continue longer. It would have been too cruel. But I hope the dinner was good and that we can see E-type in Finland soon again. And for all of you out there, I hope he will come to your country and your city, so you will get a chance to see him too. Who knows, the tour hasn't started yet ...