This was the Official premiere of the tour, since the Finland gigs actually just were "warm-ups" :)


Johan: Wednesday morning at 9 AM we left Stockholm, after waiting for Dee, who is ALWAYS late...
I slept almost all the way to Gothenburg. The beds in the yellow danger are starting to get familiar already. We got to the hotel, checked in and relaxed for half an hour.
Then we went to the stage to do soundcheck. On the way from the hotel to soundcheck, it started raining....:-(
Soundcheck was OK, and we got back to the hotel to get ready in a hurry. Only 1,5 hour to gig start. I ordered a sandwich and had a beer. Took a shower, got changed and went down to the bus. On the way to gig, we have been listening to "LOK" a swedish hardcore band which is good for the adrenaline. A few beers went down as well... We are sponsored by the Swedish brewery "Kopparbergs". They supply us with beer and cider for the whole tour.
Finally on stage I was a little nervous, but that's often a good sign! The gig was ok, we had a bit of bad luck here and there, but it was a good gig overall.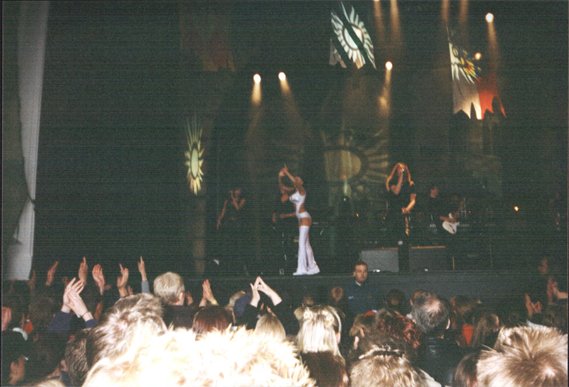 The audience was great!
There were around 10.000 people in the crowd.


Same songs were played at this gig like at the Finnish concerts, except the cover song of Judas Priest called "Living After Midnight"!


NetRoam: After the gig, I went backstage with the site-programmer, Stingbat who were with me to the concert. We kept saying to eachother that this wasn't happening! I wonder why? :O))))

Well, it really is a big thing to meet such a great artist like E-type.......at first we stood waiting for the band, but as soon as Johan found out who I was, the talk started......10 seconds after Johan started speaking to me, Martin (E-type) came along with the sentence: "Sooo, it's you!!" and afterwards he hugged me. Greeeeeat! He did know who I was, since he has seen this site before, and he has been told from Johan about it and about who I am.

After a little while of talking, the band was off to a restaurant in Gothenburg. We were invited to come along, so we did. The whole band had dinner there and talked a lot of how the gig went......what was the ups and downs.....and so on.
At around 2 AM most of the band left the restaurant including Dee & Johan.....we did manage to get an autograph from Dee before that, so that was awesome. About 15 minutes later Martin was about to leave as well.....but before that he came over to me and we chatted a bit. We got his autograph and he left.

What we didn't know was that the band went upstairs to a bar and continued the party until 6.30 AM and then there was an 8-hour busride back to Stockholm........At 2.30 AM we thought it was all over and we went back to the youth hostel, where we were staying and the next day we went back to Denmark!


All in all......a really great experience, which I will never forget!!!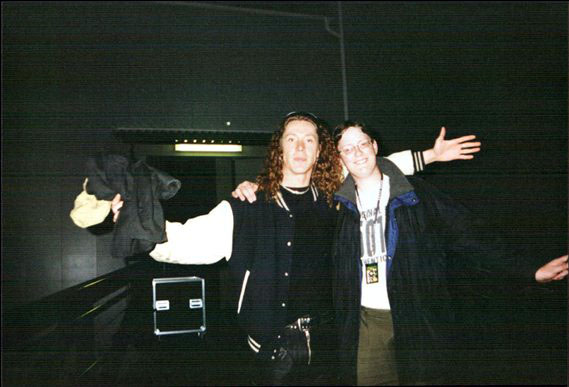 Martin "E-type" Eriksson & NetRoam (webmaster of this site)

(picture taken from the backstage area at Liseberg)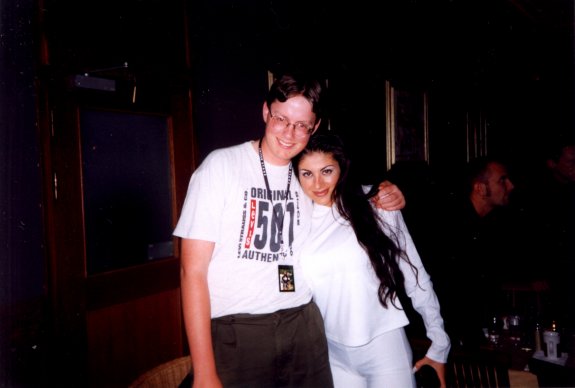 Dee & NetRoam (webmaster of this site)

(picture taken from Babar restaurant in Gothenburg)
Copyright © www.etype.dk 1999-2001
These pictures are NOT to be distributed in any way without our permission