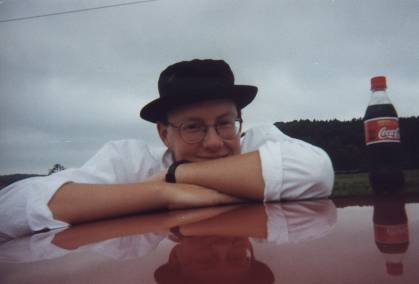 posh! & NetRoam - on TOUR!
[This part is written by ourselves. This story starts at midnight Saturday morning (July 24th), where E-type was going to perform at 11 PM Saturday night and it ends at 1 PM Sunday!]
After meeting up at a highway stop in the middle of nowhere, but close enough to be near a McDonald's Drive-In, We went to posh!s place to get a few hours sleep – but almost in vain, due to the fact that We were pretty much excited about the trip, We stayed up talking till very late and only catched about 3 hours of sleep. After making absolutely certain that We hadn't gotten any last minute mails, We left the town Løgstør for Frederikshavn at 01:15 AM Saturday.

With E-type blasting through the speakers of posh!s car We left Løgstør behind at Fast Forward... only to discover that aprox. 99,9% of all tourists had gotten the same idea as us: "Leave in the middle of the night with your caravan – and the roads will be free..." The speed then dropped radically to around 70-80 kmph. the rest of the way.

At 03:05 AM We arrived at the ferry in Frederikshavn and checked in the car. We had to wait there for aprox. 45 minutes before We were let on the ferry.

At the passengers lounge on the ferry, Stena Jutlandica, we were watched like two weirdos, maybe because of our E-type-Tour Outfit, or maybe because posh! was constantly carrying on with his blabbering about getting some cigarettes (he had run out 55 minutes before...) and NetRoam's problems getting Swedish currency. Half way through the ride We finally found a way out of NetRoam's currency problems and the "Tour de E-type" was back on.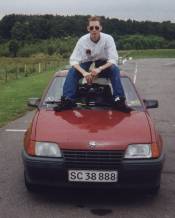 We arrived in Gothenburg around 7.15 AM Saturday morning. We were certain that we wanted to go to Skivhugget (a large CD-store in Gothenburg), before We went to Helsingborg, and the store didn't open until 10 AM, so what were we to do for about 3 hours?? So We decided to go for a walk around the city, and believe us!?! We got to see most of it. We were away for about 2½ hours and we got to walk about 10 kilometres all in all.

Well, Skivhugget is an amazing store, and We were lucky! We found "Free Like A Flying Demon" there, which We didn't have already, so that was great!

About an hour later We left Gothenburg towards Helsingborg. On the road trip We were listening to E-type, of course. All 3 albums and the singles. Are We on our way to an E-type concert or aren't We?!? :)

Half way between Gothenborg and Helsingborg, We stopped at a gas station to regain a little energy, and to get the empty Coca Cola cans renewed to some filled ones.

At 1.30 PM the car reached Helsingborg. We started driving around the city for a bit just to find out where exactly the "Cityfesten" took place. After parking the car (far far far away), We went to see where E-type was going to perform, and there We found out that the concert was at 11 PM. Well, not to worry - We found a place where We could sit down and have a beer while talking about the upcoming concert. At the stage (which was being set up at that time) We got in touch with Håkan Axlid - the tour manager of E-type and We talked a bit with him to make sure that We were allowed backstage after the show with our E-type Backstage Guest Passes!

Later on in the afternoon We went to the railway-station in Helsingborg to pick up 2 friends, who were going to the concert with us! We have been in contact via the web for quite some time, so it was fun to see who they really were. In order to have them recognize us, posh! had made some special etype.dk shirts which We wore (I think a lot of people in Helsingborg wondered why We wore those - hehe. We also got a lot of remarks from people about them).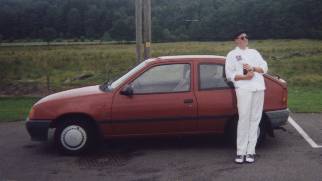 "Only" 6 hours to ShowTime - what were We to do? Actually We were really bored, but somehow We managed to kill time by sitting around in a nearby park talking & making fun of our different languages. And especially posh! killed time complaining (once again) that he had run out of cigarettes...

About ½ hour before the show started We went to the stage, and the place was crowded already! Since it was a free concert, there were tons of people there. We managed to get a spot at around 15th row at the right side of the stage, and since we're both so tall, there was no problem seeing the concert. But I think some people behind us either were a bit disappointed or they just didn't agree - hehe.

The show started 15 minutes later than expected, but We didn't mind. Started with Angels Crying, Back In The Loop & Calling Your Name - A SUPERB start! The crowd was absolutely great although there were a lot of pushing and a lot of fainting people. While the concert was on, some people started pointing at us and patting us on the shoulder. Some even asked us questions (posh! got one from a young girl who wanted to know if the actual webmasters were there – We were !!!). Either they had seen this homepage before and were glad to meet the webmasters or they were just wondering why We were wearing our etype.dk shirts - hehe

We made it though the AWESOME concert with no scratches after all the massive pushing, but all though a little more deaf. A lot of people left after "This Is The Way", where the band left the stage for a moment, but only to find out that they returned and played "Here I Go Again" & "I'm Flying".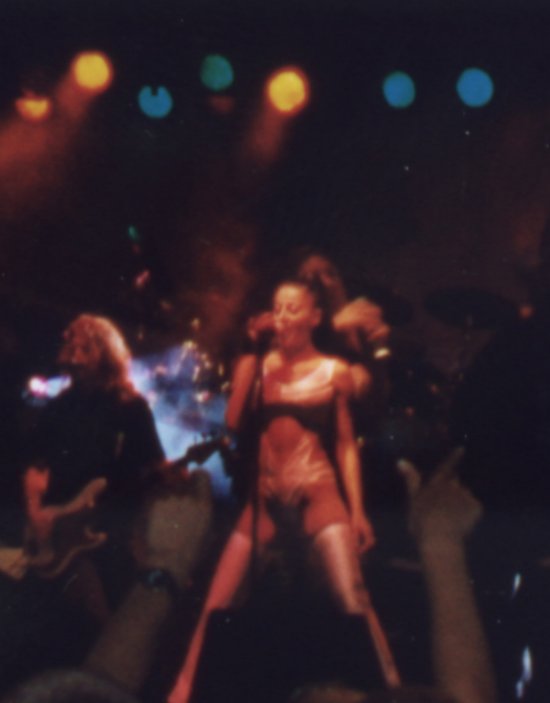 When We were definitely sure that everything was over, We went to the crew - showed our passes and got inside. After waiting a bit in the backstage area surrounded by lots of astounding Swedes outside the gates (guess they were thinking: "We are thousands of Swedes out here, and 2 stupid Danes gain access to the backstage area! WHY?" - hehe) Johan Dereborn went out the tent and went straight to NetRoam and hugged him. As this happens all people outside the backstage area were silent and almost had to pick up their jaw from the ground. We went inside the tent with the others, where We had a beer and talked to the band. First a bit with Johan and afterwards Martin. Posh! had a present for Martin, (a remix he'd made of "Will I See You Again") which he was very delighted to receive. After talking to Martin and Johan a bit, the band left for Stockholm and We have had the time of our lives.

We hung out in Helsingborg until 4 AM Sunday morning. Then it was time to head towards Varberg, where We had to go by ferry back to Denmark at 7 AM. The whole ferry-ride was spent sleeping, since We had been up for 30 hours straight. We arrived at Grenå at 11 AM and from there We drove to a gas-station about 60-70 kilometers further on. NetRoam's brother was waiting there, so that he could pick him up. Posh! & NetRoam went their separate ways, and in this case it was Løgstør & Vojens (our home-towns). A great weekend was over!

We are definately doing this once again. Only thing to do is to find out when and where and we're on tour again!