Hello you all!

I apologize for not writing in the diary for soooo long. It's been really hectic and I've barely had time to get my laundry done when I've been home...
But now I've decided to tell you all about last weekend.

THURSDAY JULY 29TH
We left Stockholm in the blazing sunshine around 2 PM. I was thinking about riding my motorcycle to Hudiksvall, but finally decided against it. After all, a 42 year old English bike should not be trusted too heavily...
We got to Hudiksvall around 7 PM, had dinner and I was interviewed by a journalist from the local newspaper. I grew up in a small town just outside Hudiksvall, so they thought they should do a thing on me!

(The article - in Swedish - can be found at:
http://www.ht.se/19990802/artiklar/19990802_08_1_2.htm)

Then it was off to the hotelroom for a quick shower. Half an hour later we gathered backstage, I did some photos for the article, and we went on stage. It was a bit weird, because it was so early. The sun was still shining! It was a good gig anyway, even if the crowd was quite calm. Around 5.000 people who hadn't started the real party for the weekend...
WE started the party after the gig! Swedish football-star Tomas Brolin is also a local in Hudiksvall, and he supplied an unlimited amount of champagne and red drinks all night long...

FRIDAY JULY 30TH
oohhh....
bright light...
My Ray-Ban sunglasses got lost in the party haze, so I quickly ran into the bus around 12 noon. We got about 5 minutes from the hotel when somebody yelled -"McDonalds"!!
After a short stop we were on the roll again. Everybody VERY tired and hung over (Except Martin, who still is a very good boy, taking care of his body after the illness).
About ten minutes later my cell-phone rings...Tomas Bergquist asks me if I can see him on the bus...
WE LEFT HIM AT McDONALDS!!!!!
Lots of laughs and remarks were made about this throughout the weekend.
Anyway, we had a loooong ride, everybody slept a lot, played cards, got bored, and slept again...That's life on the road!
We got to Piteå, checked in, had something to eat, shower and so on.
Me, Andreas and some of the others went to the "Jazz-stage" and checked out (keyboardist) Mats Öberg and his band. Quite amazing music!

Showtime! - a MASSIVE crowd (15-16.000), a great stage, a band whose hangovers are generally over, and a beautiful summer night. What more can you ask for?
It was a great show.

After the after-party we met Fredrik Dahl, the drummer from Bo Kaspers Orkester, and he told us that he had been left behind by his band! Luckily, both us and them were going to play in Östersund the next day, so we offered him to ride with us the next day.

which was...

SATURDAY JULY 31ST
We were supposed to leave at 9 AM, but there were some electrical problems with the bus, so we didn't leave until an hour later - and when we left we had no power! No lights, no AC, nothing!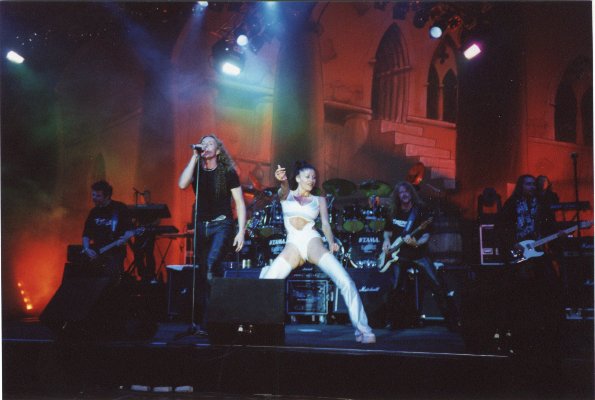 We travelled all day and got to Östersund around 7 PM. Dinner, shower - the usual schedule. But the rest of the evening was quite special!
First the gig!....WOAW!!!! Must have been over 20.000 totally insane partypartners in the crowd! One of the greatest shows so far! Fantastic!!!
And afterwards....first a couple of drinks backstage and then off to see Motörhead! We were invited to see them from the side of the stage, so there we were - 2 meters from the guys, drinking, headbanging and having a ball! Afterwards we sat down in their dressing room and talked for a while, and then the party at the hotel lasted until around 8 in the morning...

SUNDAY AUGUST 1ST
My God - August already! Time flies!
This is the part of touring I really don't like...
A whole day, a beautiful summer day, spent in a boring, hot bus. Waste of life!
We arrived home (Stockholm) around 9.30 PM, and so the weekend was over...

A great weekend, probably the funniest of the tour so far! It's a privilege to be part of this circus!
Hope to see you soon!


/Johan Dereborn