Another historic weekend.....phew!


FRIDAY AUGUST 6TH
Busride to Karlstad, nothing very special about that...
The usual scenario....(You ought to know it by now!) dinner, shower, beer...
Oh, by the way the dressing room was enormous!!! White tablecloths, huge crystal chandeliers hanging from the ceiling, very classy overall!
The gig was a bit weird....again it was full daylight, a not so big place - it was crowded and still there weren't more than maybe 1000 - 1500 people...
Anyway, an ok gig.
Afterwards we celebrated Andreas' 32nd birthday with good food, champagne and various other mildly toxic fluids....I THINK I got back to the hotel around 5 AM.

SATURDAY AUGUST 7TH
I woke up around 10 AM and couldn't get back to sleep. Ordered breakfast which I had while zapping through the TV-channels. Got bored, had a shower and went out shopping. I was lucky! There were sales all over town, and I collected clothes, books & records.
We left town around 2 PM. It was a sad sight...EVERYBODY (except me, Dee & Martin) was BADLY hung over!!!! One band member (No Names!) couldn't move all day, he was stuck in his bed the whole ride...
We had an ok busride, watched some movies, slept and so on.
Arrived in Virserum, which is a SMALL town in the absolute middle of nowhere, around 7 PM. Checked in to a small hotel, had an absolutely awful (yuck!) meal, shower, and off to the gig.
This was cool! In this godforgotten, distant, little nowhere-town, people partied like CRAZY!!! They got us on our toes and we had a great time!

A different, soultouching thing happened this evening...
We knew that a terrible murder happened very close to this place a couple of months ago, and the 19-year-old girl who was killed was a really big E-type fan.
Martin knew this and dedicated "Morning Light" saying something like: "I hope you are here, Jenny"...after the show a 40-something lady stepped into the dressing room, went up to Martin and said: "I'd like to thank you for dedicating a song to my daughter"...
What can you say....

2 hours later we rolled out of Virserum and set the course southbound for Denmark!
These nightrides are quite cozy, we often open a bottle of red wine and sit around talking for hours, then when you get tired you just sneak down in your bed and get rocked to sleep by the bus' moves and sounds....

SUNDAY AUGUST 8TH
We arrived Aarhus at around 2 PM, checked in to the hotel, had something to eat, took a shower and then it was off to the gig already! (Showtime today was 5.30)
Strange feeling...
Half an hour later we arrived to the most beautiful festival site I have ever seen! WE checked out the backstage area and got ready to do the gig....When we got on stage, we said to each other: "Let's rock this place even if there's a small crowd". It didn't seem to be any people at all in front of the stage....BUT when the front drop fell...there were 8-10.000 people! We got kicked by the sight and I think it was a great gig! NetRoam and posh! were in the 3rd row or something and it was good to see that they made it to this show as well!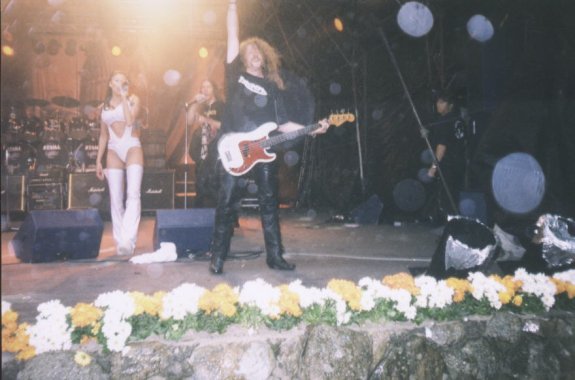 After the show we had the best party of the tour! It started off in the dressing room, then took off into the backstage bar area, where we had a couple of beers with our Danish webmasters. Martin also sat down with them and did some sort of an interview. I guess you can read that somewhere else on this great site! Anyway, we continued in the VIP-restaurant (we finished the brandy supply...), then took off into the backstage bar-area (this is where NetRoam and posh! left), then crawled on to the RAM-JAM tent, where we went on to jam for a while but got kicked off stage after only 2 songs (wonder why...?) and then the group started to disassemble...

When we got in the bus the next morning we learned what had happened...

One member of the band had got lost in the woods of Skanderborg and ended up hitch-hiking for a couple of hours to get back to the hotel. Another band member had a nap in a trash-can on the festival site ("it was so wet and muddy everywhere, and the plastic bag was ALMOST empty, so I thought it was a good place to lie down").

Still, yet another member had the BEST story...
..at around 5 PM when most of us got back with the bus to Aarhus, Håkan, Steve and Max Abbey went to sleep in their Bus-beds. A couple of hours later Max wakes up hearing a strange sound....Someone's in the bus!!!! Heavy breathing and steps approaching the rear end of the bus (where the sleeping area is). Max is certain that it is a maniac with a ten-inch knife, and his heartrate is up around 200 as he goes for it! He rolls out of bed, rushes to the exit (just waiting to get stabbed in his back), leaps out of the bus and (in his socks and underwear) runs across the square to the hotel. (it's raining...) Safe inside the lobby he tries to explain to the receptionist that there is a maniac murderer in the bus!!! The receptionist quickly gets the picture and calls the Police, who arrive just minutes later. Max Abbey and the officers now search through the bus, finding nothing except Håkan and Steve sleeping like babies...(I wonder what the officers thought about the smell of their breaths?)
After the police officers have left, Abbey notices that Steve isn't sleeping in the same bed he went to sleep in last night...
It was Steve, changing places, who was the maniac murderer with the ten-inch knife!!

Believe it or not, but some of the guys (NO!! - not me of course....) continued partying in the bus all the way to Frederikshavn where we arrived around 2 PM MONDAY afternoon. From there it was just a looooong trip back home. Sleeping, movies, junkfood and LOTS of laughs when we summed up the tales of last nights partying.

Thank You Denmark for a memorable evening!!!

See y'all later!

/Johan


Our own little story about Skanderborg (from NetRoam's point of view)


First of all ... posh! (assistant webmaster) and I were a bit late to the whole festival.
E-type was going to perform at 5.30 PM sunday afternoon. We came to the festival and met up at 4.45 PM, but what we didn't know was ... we had to walk - I would say - 2-3 kilometers before we got to the entrance. So we got to the back-entrance, and believe it or not ... we couldn't buy tickets there :( - So we had to walk all the way to the main-entrance to get tickets and then into the area of the festival.
We arrived at the stage at 5.12 PM. We thought: "Damn, all the good places must be filled out already". But luckily E-type obviously isn't that known or popular in Denmark.
Not that many people had showed up already, so we got a great spot at 3rd row right in the middle! Great view to the stage!

Finally the concert started ... and it was amazing as always!! Posh! and I was, of course, wearing our www.etype.dk tour-outfit, so we got a lot of pats on the shoulders and questions and so on.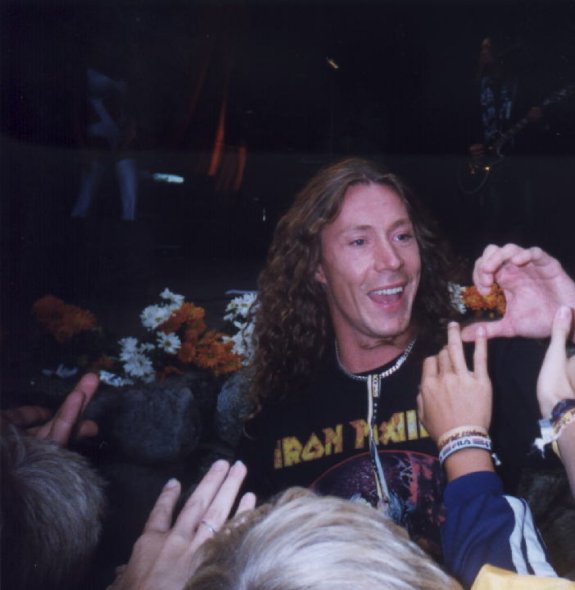 Already at the opening song "Angels Crying" Johan (the bass-guy, who wrote the story above) found out that we were there, and Martin found out in "Back In The Loop" (the next song) ... actually he went to the far front of the stage and threw his microphone down to us and we started singing like hell!! And when it was time for his "rap", he got it back - Awesome!!
He also threw a towel to us, which would come in handy later, because it was raining all the way through the concert (I wear glasses, you know, so it was great to have a towel to dry them a bit - hehe). A funny part was when a guy "mooned" to the stage. I tell you, the guys on stage was laughing as hell and Dee simply couldn't stop. She had to hold her hand to her stomach just to be able to stop a bit - hehe. The rest of the concert was just great ... we got a lot of pointing fingers, smiles and such from Martin, Dee & Johan and people around us was wondering ... who the hell are we, since they are pointing at them all the time? - hehe ...
The best point of the show must have been, when Martin told the crowd (10-15.000 people) that if they wanted to know more about who e-type was, they had to check into www.etype.dk. At first he almost said e-type.se, but he quickly corrected that - thanks Martin... we couldn't have asked for better promotion of this site!
We also found out after the show that we were a real influence on the crowd. Whenever we started clapping the rest did it too :)

After the concert we went backstage (of course - hehe), and there we spoke a little with Johan about the concert and other stuff, and then the band was off for dinner. Martin, Johan, Micke, Max & Thomas from the band joined us and we spoke a lot about things, and we got some photos taken!!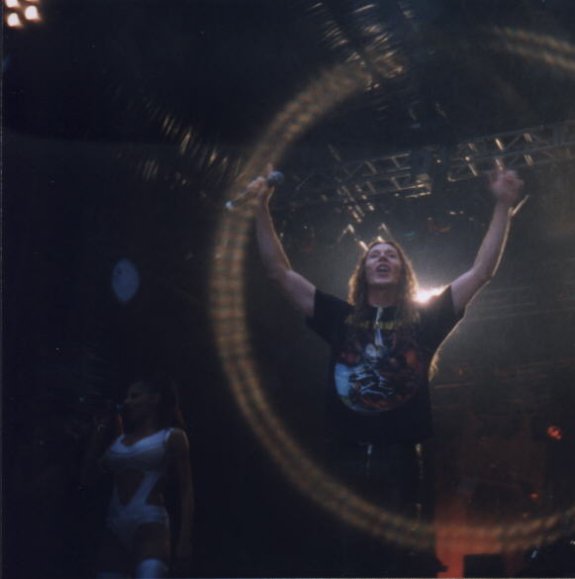 At around 9.45 PM they wanted to go see D:A:D live, so we went there! So there we were standing - right next to Johan, Martin and the others on the other stage watching D:A:D from the side! (There were 2 stages right next to eachother). Good thing we weren't standing in the crowd ... they were almost getting crushed down there! - hehe

A really great day ended with a massive fireworks-show!!! And right after that, we had to go look for Johan's mobile-phone, because he lost it somewhere - hehe ... I tried to call it and maybe we could hear the phone ringing, but we found it lying on the ground right next to where he was standing watching the fireworks - hehe. 1 hour drive home from there and the day was completely ended. 2.15 AM I got back home and the next day I skipped school!! (was too beat to get up - hehe)

Posh!s drive home from Skanderborg was a bit more dangerous and eventful...
It was raining cats and dogs, and posh!s car was damaged after the Helsingborg trip, so he had leased one and that one had broken window-washers, so he could drive 2 kilometers and then had to walk 200 meters to pick up a washer, attach it and then go on - that kept on for 100 kilometers... Besides the dangerous part of driving without being able to see anything, he had to attach the washer in the middle of nowhere - with no lights - and with heavy rain coming down...
But yet again a successful www.etype.dk-crew trip!

You can expect us on the next tour as well, so cross your fingers and hope that Martin soon appears with a new album....


/// Written by NetRoam. Co-written by posh!