Select language:



» Introduction

LMS Tour 1999
» Tour Dates
» Tour Diary

E4E Tour 2002
» Tour Dates
» Tour Diary

Euro Metal Tour 2003
» Tour Dates
» Tour Diary

LPSL Tour 2004
» Tour Dates
» Tour Diary

Various Live Shows
» Show Dates

Concert Reviews
» View Reviews
» Send Review



Tour Diary [Euro IV Ever Tour 2002]
This part of the site has not been translated yet
Part 7: The official unannounced "E-type Midweek" takes on Helsingborg!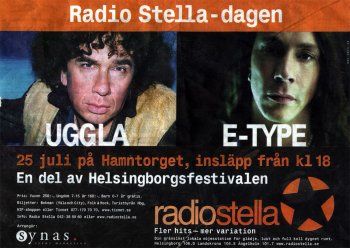 Written by R.M.L.
The 24th of July. Woke up at 6 o'clock in the morning. Couldn't sleep any more because today I was going to be on my way to my first E-type concert ever!!! I had arranged with Morten (NetRoam) to meet him at his place in Southern Jutland, (Denmark) the day before the concert, so that we could spend some time together and prepare ourselves for the long trip by car we had in front of us to Helsingborg and the concert. Also the Dutchmen Danny, his girl Majolie and Florian from etype.nl would come to Morten's place that day. My train first left at 11 o'clock so until then I was really restless and thinking about the concert and how it would all turn out. Finally, it was time for me to take the bus to the train station and an hour later I was on the train. I had more than 3 hours to kill on the train, but I was too nervous and restless to take a nap on the train and besides I had to change trains 2 hours later (was afraid to miss the change if I fell asleep!).

A little past 2 in the afternoon I arrived at the train station where Morten was to pick me up.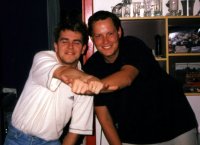 Danny & NetRoam at NetRoam's place!
(Photo: Majolie)

Together with him were Danny, Majolie and Florian. We went to Morten's place, met his sister and her boyfriend and the rest of that day we had fun, enjoyed ourselves and talked about E-type and the concert the next day. It was very late before we went to bed! Our Dutchmen were really tired, because they had driven all the way from Holland but they stayed up as long as possible until they just couldn't keep their eyes open anymore!

Morten was the first to get up the next morning (early!) because he had some stuff to do in the city close by and had to give his sister and her boyfriend a ride. An hour later he came back with groceries so we had breakfast and talked until Majolie and Danny got up. More than an hour later one very sleepy Florian got up. He didn't get much sleep the day before he arrived in Denmark, so he had some catching up to do. We decided to leave Morten's place around 3 o'clock and head for the nearest city to change for Swedish currency. Our Dutchmen had made a special tour t-shirt for us with a picture of E-type, place and time for the concert and the web addresses for etype.dk and etype.nl. and we wore these t-shirts in the city. Some people were staring at us like we were crazy (we were/are - about E-type!), but we thought it was pretty cool!

After changing to Swedish currency we drove off to a big shopping centre that was on our way, so that our Dutchmen could see a Danish shopping centre and buy souvenirs. The time was now beginning to concern me and I was pretty nervous that we wouldn't catch the ferry in Helsingør or something would happen. I didn't want to miss my first concert with E-type for anything!!

We went across Funen with very high speed and since our Dutchmen was driving their own car Morten and I had to keep a close eye on them all the time 'cause we didn't wanna lose them on the highway.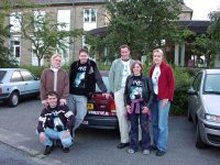 The gang in front of the cars in Helsingør!
From left to right: Majolie, Danny (sitting),
Florian, NetRoam, Carina and myself
(Photo: Stingbat)

We crossed the bridge between Funen and Sealand without problems and drove towards Helsingør. We decided to have something to eat before reaching Helsingør. It would save us the trouble of finding a place in Helsingborg as we didn't know a place beforehand. We were supposed to pick up Nikolaj (Stingbat) and his sister Carina at their place but instead their father drove them to Helsingør and furthermore he showed us a safe place to park our cars while we were in Helsingborg. That was great!

I think it was around 9.30 Thursday night when we got on the ferry and 20 minutes later we arrived in Helsingborg. Now I had really big butterflies in my stomach! The concert was set to 11 o'clock so we had about an hour to get into the area where the concert was taking place and to get as close to the front row as possible to get a better view and better photos! The E-type concert was part of the Radio Stella-Dagen on the Helsingborg Festival and he was the last one to perform that night. Even though it was Thursday there were a lot of people in the streets. We found Hamntorget where E-type would perform and as we were on the guest-list we didn't have any problems entering the area, so I was very relieved! Finally here! Wow, now I was really excited!! Within an hour I would see and hear my favourite singer and I just couldn't wait! I managed to keep a cool appearance 'cause I didn't want to be a hysteric fan screaming and jumping around like crazy, but my heart was beating like a big drum and I was sure that everyone around me could hear it!! A Swedish singer called Magnus Uggla was on stage and performing before E-type and he just kept on singing and singing! He seemed to be very popular as people sang along and jumped around to his songs!! While we were waiting we bought the E4E Tour t-shirt and because they didn't wanna carry it around in their hands Morten, Florian and Danny took off the Dutch t-shirt, put on the Tour t-shirt and put the Dutch t-shirt back on!!

Finally, Magnus Uggla finished. E-type was now about 30 minutes delayed! Furthermore, Magnus Uggla's gear had to be removed and E-type's instruments and gear would take at least half an hour to be put up, so we still had to wait for 30-45 minutes. But we thought it would be a good idea to head for the front row now when people were leaving – we didn't know how many Magnus Uggla fans that would stay for the E-type concert. So we pushed through the crowd and reached the 5th row. We found out that Lasse Pettersson (he has been to more than 30 E-type concerts!!) was in the front row – lucky him!! Magnus Carlsson (photos by him on etype.nl!) joined us. Most of E-type's gear and instruments was now in place. The big Swedish flag was now up in front of the stage and we could hear something was going on behind it!! AC/DC (I think!) was playing in the speakers. There was a woman that was pulled away from the front row by the guards because she and another woman started to fight! But then "Norby IV Ever" was in the speakers and I saw that the band and E-type was behind the flag now. The first tunes of "Life" began and suddenly the Swedish flag fell to the ground and "Life" set the concert off. The crowd was pushing and trying to get in front of us and our little group was beginning to split up. We had difficulties in staying together. Nikolaj's sister Carina and I stayed together and managed to get to the 2nd row!! And believe me - we fought hard to keep our good position! There he was - our Swedish prince!! He was breathtaking! So loaded with energy that he jumped around like a little boy up and down the stage, first he was to the left and then to the right and suddenly he was in front of you! It was hard work to get the perfect photo of him as he was always moving around! And the few people in front of me was always jumping!!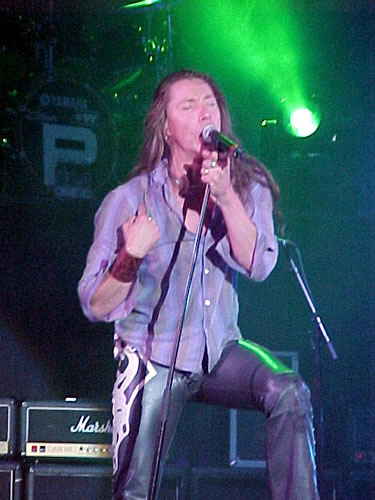 E-type live on stage!
(Photo: Magnus Carlsson)

Sometimes he "pretended" he forgot the lyrics and sometimes he was babbling! He teased the band and rescued them from a big "dangerous" demon!! On stage there was these 2 big sets of drums with E-type written with one letter on each drum! But to show us that he hadn't forgotten to play the drums himself he appeared from underneath the 2 sets of drums that had been risen from the stage so that he could roll in with this little set of drums. He played like h… and teased the 2 other drummers until they gave up and let him win the "I'm a better drummer than you"- contest!! During the whole concert he threw white towels (after he had used them on his face!) into the audience. It was like feeding lions with meat! He got hold of 2 tour t-shirts that he also threw. He had 2 bottles of water (!!) which he gave to 2 fans – one of them was a woman in front of me – she was so overjoyed!! The 2 drumsticks he had used when playing the drums also went the same way!!! Unfortunately, I didn't see much of Dee as she spend most of the time in the right side of the stage, but I could see that she was beautiful, dancing as usual and dressed as usual! The 3 back-up vocalists were great too – sang beautifully! Johan was very cool and so was the rest of the band. They were all really turned on!!

I'm not sure in which order the songs came but if I'm not mistaken we did hear "Life", "Africa", "Calling Your Name", "Hold Your Horses", "Campione", "Free Like A Flying Demon", "Set The World On Fire", "This Is The Way", "Back In The Loop", "I Just Wanna Be With You", "Here I Go Again", "Angels Crying" and "Russian Lullaby". I was disappointed that he didn't sing "Banca Banca" 'cause I really love that song and it would have been fantastic to hear it live! Before E-type was going to sing "Free Like A Flying Demon" he told the audience that there were visitors from Denmark and Holland at the concert: the people behind etype.dk and etype.nl and he asked: "Where are you?" and Carina and I jumped, yelled and waved our arms at him, so that he could see us. I don't know if he did, but he did actually recognize Morten and pointed at him! (Morten is very known to E-type and a tall guy so no wonder!!). He said something like that he appreciated that we came this far and dedicated "Free Like A Flying Demon" to us and said; "They came flying in…low in their crazy airplane – they were flying like demons!" and started singing! That was fantastic!

There was a little girl about 8-10 years old standing in the front row across from me. She handed a little teddy bear to one of the guards, so he could give it to E-type. He gave it to E-type and pointed at the girl. E-type jumped down from the stage and hugged the girl and kissed her on the cheeks and the head!! The little girl was so happy that she started to cry!! E-type carried that little bear on his palm as it was a fragile flower! What a guy he is, E-type!!

The time just past by and suddenly the concert was over!! People left the area pretty quickly as it was rather late at night.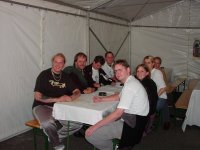 Everyone of us at the backstage-area!
From left to right: Magnus Carlsson,
Lasse Pettersson, Danny, NetRoam,
Florian, Carina, myself and Majolie
(Photo: Stingbat)

But our little group of 7 people was not leaving yet! Together with Lasse Pettersson and Magnus Carlsson we went to meet E-type and the band backstage. Johan Dereborn came to pick us up himself (he was very happy to see Morten!) and showed us a place to wait. We got something to drink from a nice lady. I think we waited about 10 minutes and then we were taken to a small room, met among others Andreas Dahlbäck, Staffan Brodén, Frank Rönningen and then E-type walked into the room and said hello to us all. It was amazing to experience!! I felt like it was some kind of dream and I didn't want to wake up from it! So I just enjoyed it!! Morten, Danny, E-type and Johan was talking to each other like old friends and I could see that they enjoyed each others company very much. Carina got E-type's autograph on her tour t-shirt and Florian got one on his E4E cd. Morten actually astounded E-type by giving him a special tour cd with the songs from the E4E-tour and E-type was very surprised, amazed and speechless for minutes before he finally could say something!! We could all see in E-type's eyes that he had never expected something like that! He even had to show the cd to Johan who also swallowed his tongue for a minute and was only capable of coughing out the word "Fantastiskt!!!"

After 10-15 minutes E-type said that it was time for him to take a shower but he hoped to see us all at the afterparty at a place called the Bunker Bar later. Johan gave us the tickets to Bunker Bar and asked if we knew where it was and how we would get there. Since it was only about 5-800 metres away we said that we would walk but when we got outside someone decided to drive us to Bunker Bar in the crew's minibus. But we were 9 people and there was only room for 7, so Majolie and I went by this beautiful dream of a red car (belonged to the crew!). The chauffeur drove fast through the streets of Helsingborg, so it took only 5 minutes to drive to the Bunker Bar.

Well, I'm not gonna say much about what happened at the Bunker Bar, but though we were pretty exhausted from all the excitement and long drive, we all definitely enjoyed ourselves and had a great time with E-type, most of the band members and other guests!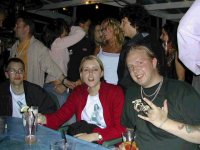 Stingbat, myself and Magnus Carls-
son at Bunker Bar (Famous Swedish
singer Magnus Uggla in the background
with black curly hair)
(Photo: Lasse Petterson)

We met Magnus Uggla there too! E-type himself and Johan were both very attentive towards us and always asked if we were okay or needed something. E-type and Johan both got one of the Dutch t-shirts which they were very happy about.

And as we all know - good company makes the time pass too quickly and that was definitely also the case here. Suddenly it was nearly 4 o'clock Friday morning and we had to go. So, though it was very difficult, we had to say goodbye to E-type and Johan, and got a lot of big hugs and kisses! They both said that they hoped to see us all again very soon! So do we!!!

We left Bunker Bar, tired but very happy and walked back to the ferry. On our way we passed by Hamntorget and the stage where the concert took place. Empty beer cans and blue and yellow confetti were all over the place. I could still see E-type standing there and singing…

We left Helsingborg with the ferry a little past 4 and in Helsingør we found our cars safe and sound. Not one scratch on them. Though we were very tired we still had a more than 3-hour drive back to Morten's place. So we drove Nikolaj and Carina home and hurried back on the highway towards Southern Jutland. Not long after we got back on the highway the Dutchmen took a little detour on to a lay-by for some reason so we had to pull over and wait for them! Half past 9 Friday morning we were back at Morten's place and since Danny, Majolie and Florian still had more than 6 hours to drive back to Holland they decided to sleep for a couple of hours. Morten and our Dutchmen drove me to the train station around 3 o'clock Friday afternoon and 4 hours later I was home.

I'd always thought that experiencing an E-type concert would only be a dream that would never come true ... but it did!! And I must say that I got everything I could ever wish for; a fantastic concert, a backstage visit and attended a private party!! This day I will always remember and keep in my heart!! But I sure do hope that I'll get the chance of experiencing another fabulous E-type concert again ..!!

- RML