Select language:



» Introduction

LMS Tour 1999
» Tour Dates
» Tour Diary

E4E Tour 2002
» Tour Dates
» Tour Diary

Euro Metal Tour 2003
» Tour Dates
» Tour Diary

LPSL Tour 2004
» Tour Dates
» Tour Diary

Various Live Shows
» Show Dates

Concert Reviews
» View Reviews
» Send Review



Tour Diary [Euro Metal Tour 2003]
This part of the site has not been translated yet
Part 6: Ljungby hosts yet another amazing E-type weekend!
Written by Morten (webmaster)
March 7th - 9th is yet another weekend to remember for me, since I went to my 3rd concert on the Euro Metal Tour and the 11th all in all, so I'm beginning to be pretty experienced in this :) Anyway, things started friday March 7th with my travelling to Sweden. Luckily my parents were going to Copenhagen to spend the weekend there with a couple of their friends, so I could get a ride from them to Helsingør where they dropped me off at the ferry. Cheap trip :) I took the ferry to Helsingborg at around 9-10 PM or so ... 20 minutes later I was in Sweden and welcomed there by Lena and Gunilla (Anders was at home) - my dear Swedish friends whom I was going to spend the weekend with in Ljungby.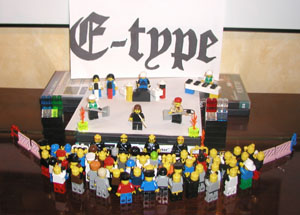 E-type concert - LEGO style!
(Photo: Morten Pedersen)

We went to Gunilla and Anders' home in Ängelholm where we relaxed a bit, saw photos from the last trip we were on in Munka Ljungby, listened to some E-type music I brought along and generally had a nice time until we went to bed at around 1-2 AM.

The next day we got up at around 9:30 AM, got breakfast and sat talking for some hours until it was about time to be heading towards Ljungby. After a stop at McDonald's near Ljungby sometime around 3-4 PM we got to Ljungby and found Hotel Terraza where we had booked rooms for the night. We checked in and went out to see if there were any good restaurants nearby, where we could get dinner later on. We also walked down to Garvaren to see if the "Yellow Danger" (tour bus) had arrived. It wasn't there, but it was still early at that time - we went to buy some chips and went back to the hotel, where we sat in one of the rooms to talk about the upcoming concert and slowly prepare ourselves. I got an SMS from Johan Dereborn that their tour bus had broke down about an hour from Ljungby and that they would be there late which meant - no soundcheck. A pity! After a nice and spicy dinner at a restaurant pretty close to Garvaren, we went down to the entrance to see if the doors were open. They weren't and there were no people there either. But we managed to convince the bouncer that we were "VIP's", and we got in some time before anyone else. We went to the concert room at once to see the sound engineers do the soundcheck, adjust guitars, lighting and such. Was really interesting to see. At 10 PM the disco opened and people stormed in to dance and to go to the bar. We went to the front row and waited the next 2 hours for the concert to start.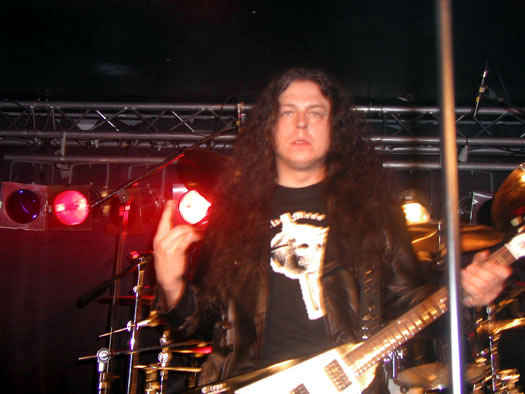 Pontus looking straight at me with a cool look!
(Photo: Morten Pedersen)

Time was getting close, and we could really feel the pushing was about to begin even though it was still about 15 minutes until the gig started. And it got worse as the concert started. I had a hard time getting pushed up the front fence, but luckily I avoided any damage. As long as my digital camera was safe, I didn't really care. Directly from the start of the concert I began taking photo after photo leaving me with over 100 photos when the concert ended :) Anyway, the show itself was awesome as always. They were all very much on their toes and they did a great job!! The crowd was really intense and sang along on every song there was. One of the best crowds I've experienced yet. Martin (E-type) was very jumpy and excited and was down at the crowd a lot. At one of the first songs he saw me and we made a "High 5" while he gave me a big smile. Lasse P (walk.to/e-type.net) stood next to me and Martin also greeted him in the process. During the concert - which btw. is now on my top 3 of overall concert experiences - the other band members also took notice that I was there. Pontus was at me pretty fast looking straight at me as I took a photo of him (photos available in the Photos-section). Also Linda and Therese saw me and made some great poses to the camera. I just love when they all do that, because that really gives me some great and astonishing photos for the archives :) At a point in the gig Martin also showed his muscles to the camera, and later on I got a photo of him sticking his tongue out :)) I suggest you go see the photos - they are great :)

Unlike the concert in Munka Ljungby they had decided to cut down the tracklist with 2 songs meaning that "Set The World On Fire" and "Back In The Loop" was taken out of the show and instead replaced by a guitar-solo by Pontus Norgren after "This Is The Way". It's of course a pity when the show is shortened down, but it actually meant that the intensity of the crowd and the band was way better than any of the other concerts (Gothenburg and Munka Ljungby) I attended.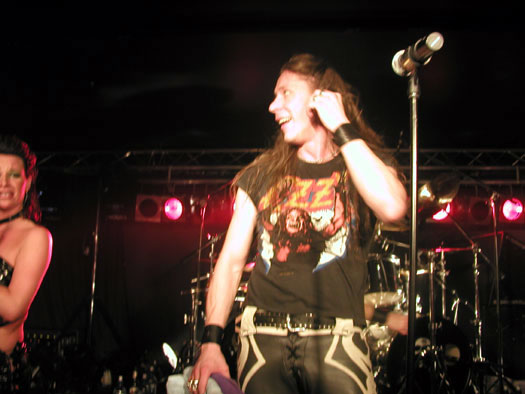 E-type smiling at Pontus and Linda!
(Photo: Morten Pedersen)

That also meant a MUCH better performance by E-type and the band + the crowd was on their feet and jumping every step of the way - and I could really see that was something the band enjoyed to see. Close to the end of the show, Johan came up to Martin whispering something in his ear, and Martin started introducing the band and the crew, thanking them for all their dedication and hard work. After that he turned his head to me and yelled out to the crowd: "I'd like to thank the world's best website, www.etype.dk. He's right here!!" while he was pointing at me. I, of course, felt honoured about it, but also a little bit embarrassed with all the attention :) He also thanked Lasse who was at his 44th or 45th concert. Really impressive. "Life" started afterwards ending an AMAZING performance which was a DEFINATE 10 out of 10.

A really hectic concert was over with the crowd screaming for extra songs for several minutes. I knew there were no more songs, but people kept staying at their spots meaning I couldn't leave my place in front before about 10-15 minutes later ... pretty weird to see such eager crowd :) After catching our breaths for another 10-15 minutes, the band got out to the disco and I got to talking with Johan, who also rated this concert among the top 3 of this tour. While talking to Johan, I saw Linda and Therese come out walking just past us. I waved at them and they waved back with a big smile on their faces (cool - hehe). A bit later I saw Roger come out and I had a quick word with him.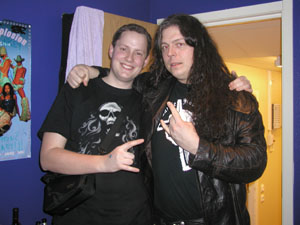 Me together with Pontus Norgren backstage!
(Photo: Sussie - Danish fan I met there)

Johan told me that we were going to a little private area of the disco where we could have a beer and talk a bit, so we followed him to the back of the disco where also Martin, Roger and Mikkey Dee came. We met up with Martin and I got a big hug from him. He wanted to give us all a beer, so we were to follow him to the bar, so he could buy us one. As there were many people around us, we couldn't quite follow him, which made him look back and yell out "www.etype.dk - Are you with me??" whereafter people moved away and I could come through. Pretty cool to see how people reacted to that :))) In the bar we got 2 beers, stood talking to both Martin, Johan, Roger and a bit with Mikkey Dee.

A while later we found out the disco was getting pretty empty. Turned out the disco was closing for "normal" customers, and only a small amount of people was left - including us. We got the notice from the crew-people that we had to get our coats, as they closed down the wardrobe, so we went out there to get it and afterwards get back to the now very silent disco. While standing there some Swedes got into a fight which didn't look so good - next to me was a blonde girl who suddenly started speaking to me - in MY OWN language. I must say I got a shock to hear that a Dane had gone to Sweden for an E-type concert. That's something I haven't yet experienced at the 11 concerts I've attended so far - unless it was Danes I was with already of course :) So she started the conversation asking me if I was the one who had made www.etype.dk, and well, that was true, so we got to talking a bit about the website, where we were from in Denmark, what we did for a living and all that. After I got my coat, she, her brother (who was with her) and I went back to the stage in the disco where Martin was sitting.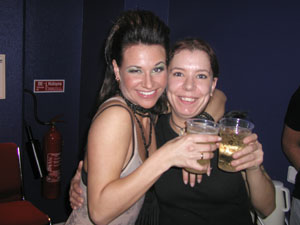 Linda and a Garvaren employee backstage!
(Photo: Morten Pedersen)

Turned out Martin was wondering where I was while I was getting my coat, so I went to him to assure him that I hadn't left :)) He then invited us all to the backstage-room where Pontus, a crew-member and Linda was sitting, drinking and having fun :) They were all excited to meet us all, and we got to talk for quite a while about this and that which was really cool. I took a few photos there while talking.

At around 3 - 3:30 AM everyone was about to go back to their hotel, since they had a long drive to Stockholm in the morning for the final gig at Göta Källare, so they needed some sleep. We went with the band out of the disco and stood talking for a short while in front of their hotel (Garvaren) before saying good night whereas they went inside and we went back to our hotel. 5 minutes later we were back at Hotel Terraza, where we went seperate ways. Lena to her room on the first floor, Gunilla and Anders to their room on the second floor and me to my room on the third floor. At 4 AM I went to sleep.

I woke up at 9:30 AM and got down to first floor to get breakfast with the others. After that we packed our things, checked out and went back to Ängelholm. At 3 PM I was driven to Helsingborg where I went with the ferry to Helsingør. My parents were waiting there to pick me up (in the meantime they had had a great weekend in Copenhagen), so we could go back home. I was dropped off at my place in Kolding at around 7 PM that evening with yet a lot of cool memories from an amazing E-type experience.

That's it, folks! See ya later (Thank you, Lena, Gunilla and Anders for yet another great weekend!! You're the best!!)


/// Morten
webmaster