Select language:



» Introduction

LMS Tour 1999
» Tour Dates
» Tour Diary

E4E Tour 2002
» Tour Dates
» Tour Diary

Euro Metal Tour 2003
» Tour Dates
» Tour Diary

LPSL Tour 2004
» Tour Dates
» Tour Diary

Various Live Shows
» Show Dates

Concert Reviews
» View Reviews
» Send Review



Tour Diary [Euro Metal Tour 2003]
This part of the site has not been translated yet
Part 7: The Devil from Tallinn is back with a vengeance in Stockholm!
Written by Flasher T
EDK representatives were fully "in the loop" for the Metal tour. A joined delegation of EDK and Experience webmasters was there for the premiere - and Russian mod Flasher T reports from the closing gig at Stockholm's Göta Källare nightclub!

The Euro Metal Tour started more fuss among EDK regulars than any other single event I've seen.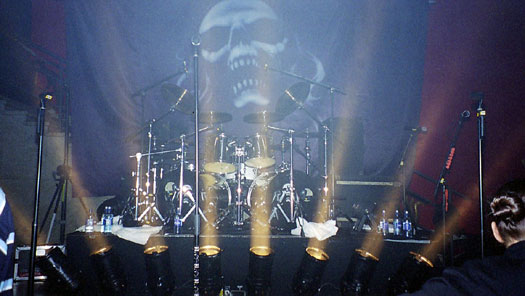 The Euro Metal Tour stage!
(Photo: Flasher T)

The die-hard Eurodance fraction was notably disappointed with yet another episode of "E-type giving up his own music", while the more hardcore regs defended the new style. All in all it was quite an entertaining flame war. Even Johan Dereborn eventually joined in the battles! I defended the decision to try metal, but I have to admit, I did wonder if it was going to work out.

Even more worrying was the lack of opportunity for me to see it with my own eyes. I wasn't quite prepared to make my way to the Swedish capital and from there go to a smaller town for the concert. So when changes in the tour dates involved a transfer of the closing gig to Stockholm, I knew I had to be there. Within hours I had a plan of my trip, and just a few days later I bought the tickets.

This wasn't my first trip to Stockholm, nor indeed my first E-type concert; you can read my report from Gröna Lund elsewhere on this site. The problem this time was that the nightclub appeared quite small, and tickets were only sold to Swedish residents. But E-type fans stick together, so I got a ticket through Lasse P, the guy who's seen more E-type live shows than most stage technicians. Thanks again, man!

So there I was, on March 9th, in the center of Stockholm, with the clouds about to let loose a big spring shower onto the city. Amazingly enough though, it remained clear for the two days I was in the city… I guess it only rains when I'm waiting in the front row under open skies!

After a bit of my usual sightseeing and shopping, I checked into the hotel Amaranten and got ready to go to Södermalm. Since there were subway stations in the hotel building and right next to GK, I decided to use public transportation. My journey took me through the much dreaded T-centralen, the place where the three main metro lines of Stockholm come together. I'm still wondering if the people who built the damn thing intended it to be a contrast to regular, clean and civilized Stockholm… In an attempt to find my train among the dozen or so caves that make up T-centralen I almost got on an elevator with a crazy man with a dog; the dog started chewing on his arm, so I quickly jumped out. I also met probably the only family in Stockholm who don't speak any English. I was later told that there is a saying: in Stockholm, you only need to go 10 meters underground to end up in hell. That I can very much confirm.

I ended up in the center of Södermalm much too early, so I had a snack in Pizza Hut. For an American fast food chain, it's pretty good; except it wasn't actually fast. A small pizza with a glass of Pepsi cost me 100SEK. Wow. I was outside the doors to GK at about 7pm. There I met Lasse and his friend, plus Curt and Annette - the same three people I saw the Gröna Lund concert with last summer. At about 7.45 the doors were opened, and I quickly took up the place in the center of the front row.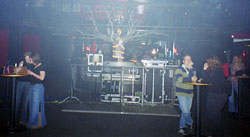 A view of Göta Källare nightclub!
(Photo: Flasher T)

The show would only start at 11pm, so we had a long time to wait.

The small size of the nightclub was actually good for something on this occasion: the fence was right up against the stage, and we could see the tracklist very clearly. Two songs had been struck off it: Set The World On Fire and Back In The Loop. Oh well, at least a guitar solo was written in with a marker.

Slowly the floor began to fill up. Very soon the area in front of the stage was packed, and NetRoam's right: Swedes do push a lot at concerts. Next to me was a completely drunk middle-aged Swedish woman who slapped me on the bum, said I look like Elvis and totally freaked me out. Wow.

Three hours finally passed. The crowd was getting impatient, and so was my camera. A few last sound checks, and the intro came on. The band came out onto the stage… and the concert began! I had a very good place now, so I got to headbang along with E-type, and hold up the microphone stand while someone back in the crowd was singing along. Plus I got a free beer from Martin himself. As Curt put it: "Beer - it's headbanging water!"

The show was amazing. It could use some fireworks for effect, but obviously a tiny nightclub wasn't a place where something like that could be used.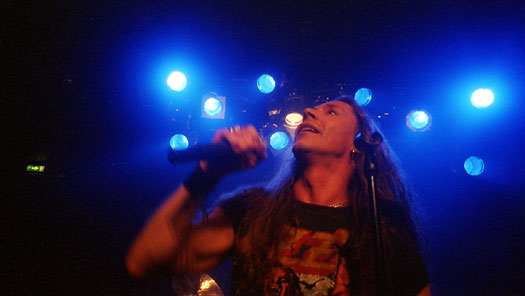 E-type in a golden moment!
(Photo: Flasher T)

The three guitarists did an excellent job, with Pontus Norgren doing the guitar solo this time. But by far the most impressive member of the new Headbangers is Mikkey Dee. He looks like a Tazmanian Devil, and yes, he does move like one. Consider this: the previous tours involved an enormous drumset that took two drummers to operate. This time there was just Mikkey, and the music was much faster than before! That guy is truly unbelievable on the sticks. And yet, as impressive as his drum solo was - the duet with E-type turned out that much better.

The fact that this would be the last concert of the tour had everyone a bit crazy, so in the second half of the show one of the technicians came out on stage carrying a tray of shot glasses… absolutely naked! He was quickly wrapped in a towel and sent off the stage, and the shots of vodka consumed. One of them by yours truly. And yes, I kept the glass!

Their ten tracks done, the band left the stage. But the crowd wouldn't have it! They demanded more, so they got more. The technicians were chased off the stage, and the band returned to perform Set The World On Fire. After that E-type introduced every member of the band and the stage crew individually. And then the concert was over…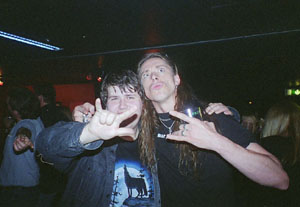 Me and E-type!
(Photo: Lasse P)

No backstage without a pass, but I did get into the afterparty, where after another hour and a half I got to have a picture taken with Martin… but not talk to him. Why? Well, have you ever been to a metal afterparty smack in the center of Södermalm, the spiritual home of Swedish rockers? Verbal communication is rarely an option.

I got out of GK just after 2am, and was going to dive back into the pit of torture that is the Stockholm metro… when I saw that it was closed. Oh yeah, excellent. From Södermalm to Kungsholmen, on foot, in less than an hour. With blisters. I think it's my personal record.

In conclusion. The new style is excellent; it's definitely E-type, but it's E-type radioactive going at 200 miles per hour, on fire, being chased by ninjas, and the ninjas are all on fire too! This style suits the music very well, and besides, Swedish rock/metal is very big in the world right now. And if these influences make it onto the next album, it will truly be a success.

Just as long as Martin doesn't change the name to "The E-types"...