Written by Myra, NetRoam and Stingbat

Wednesday (Nov. 21st)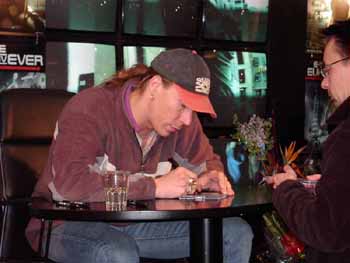 E-type signing records at Åhléns

We teamed up at Cityterminalen in the center of Stockholm at 3:40 PM (CET). After taking the boys' stuff to the hostel we had to rush back to the center to be at Åhléns as E-type would come to do a promotional "gig" signing albums. And as it tends to happen on situations like that, we got to meet E-type and chat a bit. It was obvious that Martin recogniced Morten (NetRoam) and Nikolaj (Stingbat) without introduction (and almost as obvious was that he seemed to think that he should have recogniced Myra). We got ourselves the singles and after some lining we finally got the signatures on them and (have to brag) Myra was also personally invited to the release party by E-type :-)

From Åhléns we went searching for a restaurant to have dinner. After dinner we came to the hostel to freshen up for the party. Then we got a problem: Where the h*** is "Kharma"? With a long walk and some "directions" from the locals, we finally got to the night club and managed to get in without any problems at all. Inside we were given drinks and we got close to the stage, to the front now, to be exact. At that time E-type was working as a DJ playing some great music. By the stage, just before the show was about to start, we met some really awesome cowboys, acting as security men. They were carrying guns, and one of them actually made Morten check the gun if it was loaded. And it sure was! The cowboy wanted to shoot Nikolaj as he was reaching for his camera to take photos of E-type, who had just come to the stage. We were luckily able to convinced him that E-type had allowed us to take photos.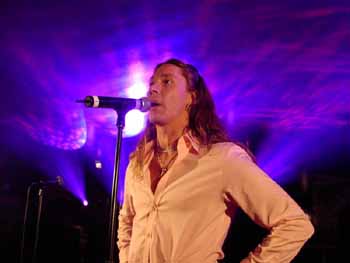 E-type welcoming everyone to the party!

E-type welcomed everyone and told the people to have drinks and eat snacks, since everything was for free. The show started with all the artists on stage (Jan Johansen, Dag Wag, Ernst Billgreen, Tommy Körberg and more) chosen by E-type himself, since he wanted the show to be something "from his heart". Maybe the most surprising performance for both the audience and the performer himself, was by Martin Sandberg aka Max Martin, who sang "What A Wonderful World". The last performing artist on the stage was, of course, E-type himself. He sang "Here I Go Again", partially in Swedish, and *surprise* "Life".

There will be quite a few photos to be shown from the party, since the cowboy that first would have shot Nikolaj for taking photos, actually later on started to push him closer to the stage, so he could get better photos. We were actually really enjoying our new friend's company, even though he threatened to shoot Morten, if he wouldn't get him a beer.

After the show for the rest of the evening, we were partying and enjoying ourselves, talking to various more or less famous people. We for example chatted with Johan (the bass player),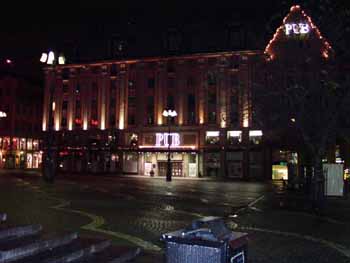 PUB - the scene of the "Life" video!

who told us some really juicy details of the future :)

We stayed at the party longer than most of the people, and as we were about to leave, we went to say "bye and thanks" to Martin, and he gave us all very warm and tight hugs. On our way back to the hostel, we walked through "Hötorget" to see the scene of the video for "Life". As we got to the hostel, we couldn't help talking about our experiences, so it was very late (early morning actually), as we went to sleep.


Thursday (Nov. 22nd)
In the morning we had all our 3 cellularphones to wake us up, but it still was difficult to get up for the hostel breakfast. After breakfast we went back to our room to rest a bit more and to listen to the record (album sampler) we were given at the party. Around noon we went for some sightseeing to Globen, Gamla Stan and the center of Stockholm. After seeing enough of sights we went to an internet café at PUB to have sandwiches and to check on the board and such.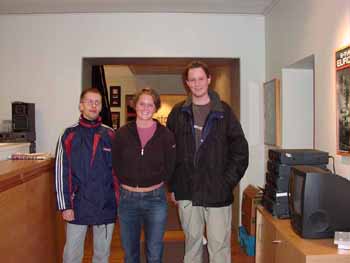 Webmasters and Karin Lundberg
at Stockholm Records

From the cafeteria we continued with a visit to Stockholm Records. At the building of Universal Music, Sweden, we got to meet Karin Lundberg and Johanna Boström who work in collaboration with the site. Karin was showing us around the SR and making sure we wouldn't miss anything as we would leave. We didn't actually ask for anything, but the visit still had a great outcome, as Karin wanted us to get the album, as well as the video tape of "Life" and some posters. She also gave us something more, but that will remain a secret for now. We were also asked which song we would prefer to be the next single. We'll see in the future if our suggestion to the next single will be selected.

After returning to the hostel from SR, we were mostly talking about everything possible. We went to have some really tasty pizzas nearby, and got back to the hostel to talk a bit more and do some plans for the site.

Friday (Nov. 23rd)
Since the boys were to go home by train around 12:30 AM, we didn't have that much time to spend. We woke up around 9:30 AM like the day before and had breakfast. Afterwards we went to the room again to relax, talk about the things we've experienced the day before and to write some more about the whole trip. At around 11:30 AM we checked out of the hostel and were on our way to the train-station. We had to go to the grocery-store first though to buy some candy, beverages and a bit of food for the 5 hour trip to Copenhagen. The shopping took a bit longer time than we expected, so we had to run like the wind to catch the train - everything was completely confusing and everything went so fast ... but we DID catch the train since it was a bit late to depart. If it had departed on time we wouldn't have made it! The trip home went quietly with lots of talk about the trip, listening to music and taking photos. Some great days has ended and it's something we'll remember for a long long time to come!