Written by NetRoam

First a little background information about the little road trip that I went on in order to be at the release party. To read about the actual release party - then skip a few paragraphs - if you must :)


Wednesday, October 31st, 2007

Wednesday evening it all started for me, when I was going on a long-awaited road trip together with my best friend (Nikolaj aka Stingbat from this website), his girlfriend Dorte and Claire, a female friend of mine from Copenhagen. After I ended my work day - which actually was a really crappy day to say the least - I got home about an hour later than I was supposed to. But I hurried up and gathered some things and went back to my little car and drove away. Nikolaj and his girlfriend had already left home some 200 km north of where I live and we were to meet in Fredericia for the first part of our road trip. After a quick stop at McDonald's in the city we drove for 2 hours until we reached Hillerød where Nikolaj's family lives, and we spent the night there.

Thursday, November 1st, 2007

The road trip was once again under way. First we went to the city centre of Hillerød to pick up Claire who had taken the train from Copenhagen there and then we could actually say that the BIG road trip had finally begun. 600 KM had to be driven before we could step out onto the pavements of Stockholm City. We took the ferry across from Helsingør to Helsingborg and as we got on the motor way towards Stockholm we reached the first scary sign:

Stockholm ...... 571 km

We had a long trip ahead of us, but we were in good spirit and we enjoyed ourselves. We listened a lot to Eurotopia on the way up there and at times the girls in the back slept a bit while Nikolaj and I talked about this and that - and also about the new design for this website that we're in the process of creating.

After a few pauses on the way (around Jönköping for lunch and Linköping for gas) we reached Stockholm at around 5 PM - right in the middle of rush hour traffic. It took us 30 minutes to drive the last 10-15 km into the city until we found our hotel - and mind you - we did know the right directions to the hotel :) At 5:30 PM we entered the hotel and booked ourselves in. A bit of relaxation was in order before we got ready for the party which was to take place at the Blue Moon Bar in central Stockholm.

As we were about to go with the metro to the inner city, we suddenly encountered a problem. The metro station didn't allow us to buy tickets with a visa card and there was absolutely no stores nearby that accepted visa either, and we had no Swedish money what-so-ever. We were in trouble since we were already a bit late seeing as how we were to meet up with Danny (etype.nl), Arjen (deesite.nl), Carin and Bettan (2 great E-type fans) in the city before going to Blue Moon Bar. Anyway, we had to walk back to the hotel and see if they would allow us to get some Swedish cash and luckily that was possible - although they charged a little fee for it, so we could finally go with the metro. Well arrived at Hötorget we met up with our other friends and we went on our way 8 people towards Blue Moon Bar grabbing a snack on the way as well.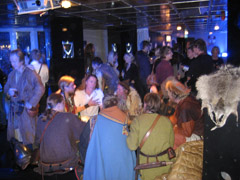 Blue Moon Bar with E-type
and his Viking friends

Let the party begin!
The Blue Moon Bar is a fantastic place - really intimate and cosy - and for some reason it has been made in a sort of basement area which is probably a good thing considering how loud the music can get :) As soon as we got through the security outside the entrance (we were on the guest list), we had to take some stairs down until we reached a few girls who would store our jackets for the evening. Before entering the actual bar we were met by 2 other girls who gave us tickets for 1 free beer and 1 free drink. Once we were past these girls we suddenly felt like real VIP's entering a big VIP-only party or something as we were bathed in spotlight standing on a podium - several cameras pointing in our direction and behind us were multiple promotional posters for Eurotopia creating a great backdrop for VIP-shots.

A few photo-shots later we went further into the bar which featured the actual bar with 2-3 bartenders along the right wall with enough space for people to stand and have their drinks by small but tall tables. Right after the bar came a round area used as a dance floor which was 2 steps down. Along the circled dance floor were small tables and cushions where guests could sit and enjoy themselves. On the dance floor were a few tall tables set up, so we went to one of these and took a look around the entire bar. Right next to us a stage was set up, so we would indeed be close to the action once E-type entered the stage. Not far from where we were standing we could see a group of people sitting by a nearby table who were all dressed up as vikings. Nikolaj and I quickly remembered how they were also a part of the release party 3 years ago for the Loud Pipes Save Lives album. It was pretty cool to see.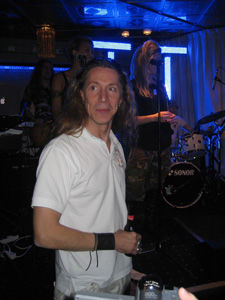 E-type having a great time

Some 5-10 minutes later we saw Martin (E-type) entering the bar greeting all the people he met on his way - celebrities, record company people, the media as well as personal friends and family. Among the celebrities were famous photographer Bingo Rimér, artist Brolle Jr., former A-Teens member Sarah, quite a few singers from the Swedish version of "Idol" and more. It was great to see Martin and he looked like he really enjoyed himself. Not long after - his eyes caught mine, and he quickly went to the table where we were standing. I was the first one to hug him and exchange a few words before he went around to all the people at our table hugging them too even though he didn't know some of them. Now THAT is really superbly done because I know how extremely happy I know they must have felt afterwards and that really warms my heart to know.

1½ hours went by where we stood by our table, talking, having a drink and sucking in the atmosphere of Blue Moon Bar as E-type and his band entered the stage. A pleasant sight met my eye. Johan Dereborn was back in the band which made me happy to see. E-type got on the microphone and welcomed us all to the party. He talked about the latest events leading up to the release party and about the new album, Eurotopia. He said that Eurotopia wasn't a country or an island, but rather a state of mind - "Welcome to Eurotopia" - whereas he welcomed the first guest performer, Peter Lundblad who sang "Ta Mig Til Havet" which obviously must have been a very famous song in Sweden as everyone started singing along.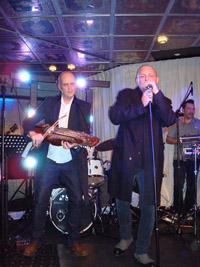 Nordman performing on stage

A 30-40 minute pause went by until E-type returned on stage - this time presenting the next performer, Nordman, who performed with "Vandraren" and "Ödet var min väg" which was actually quite good. The style of music sounded a bit like celtic music, and it was great. Just like the Peter Lundblad performance people started singing along which really pleased E-type.

E-type surprises us with generousity!
During the next pause E-type came down to our table and went straight up to me while fiddling around with something in his hand. I had no idea what he was doing, but I was soon to find out. He grapped about 20 small pieces of paper and handed them to me. "There you go! And just give the ones back that you don't use, ok?", were the words I got from him, and then he was off to talk to other people. I turned the papers around and my eyes were met with the writing "Drink ticket". Wow, I thought - he had given me 20 free drinks so to speak - and if you were to buy just 1 drink, I would suppose it would cost around 8 euros each, so I had actually gotten drink tickets for the amount of 160 euros which is quite a lot :) Of course I did share them with my companions but it was great to know that I wouldn't need to have my wallet up all night :)

The next performer on stage after a small introduction by E-type was Jan Johansen who sang "Se På Mig". To outsiders I can tell you that he participated in the Eurovision Song Contest in 1995 with this song and ended in 3rd place.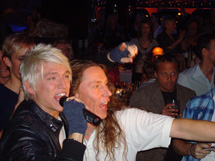 Danny performing for E-type

Another short break came up where E-type actually came down to us with a well-sized box grabbing about 10-12 Eurotopia albums and put them on our table. So we could just take one each. Now that was generous of him too. Anyway, a short while later E-type went on stage again and started to speak. He managed only to say a few lines where he spoke a bit about a lot of new artists coming and going until he was interrupted by a singer I didn't recognize at first. I found out afterwards though that it was a new artist called Danny Saucedo but to Swedes only known as Danny, who won the Swedish version of "Idol". He pushed E-type a bit off stage saying that he can take it from here. He also said that he has now known Martin for a few ... ummm ... months - which brought a laughter all around the crowd. He then sang his song called "Tokyo".


Markoolio with E-type in the chorus

Once again a short break was in order so people could get fresh drinks (and so did we - or rather - we did at each break so to speak). This time E-type could present a really famous artist. Swedish artist / rapper Markoolio hit the stage. He has among others made a parody of E-type when he released his song "Millennium 2" at the end of 1999 plus E-type and Markoolio have often battled for the no. 1 position on the charts at the same time. He came up and first introduced a friend of his (or brother, I don't know), who had his birthday that day. That led to Martin giving him a Lulubelle Records T-shirt as a gift. Markoolio then started his Swedish mega hit from this summer "Ingen Sommar Utan Reggae", and the crowd went wild. Martin joined in next to Aino as a chorus singer. After the performance Markoolio was carried away from the stage on Martin's shoulders while he was still talking on the microphone - mostly saying "I'm a Eurofighter, I'm a Eurofighter" :)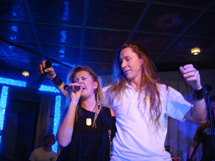 Sanne Karlsson and E-type

I'm a Truuuuue Beliiiever!
It was close to midnight and we had still not seen Martin perform any songs himself, but this time it was for real. After a break he entered the stage and hammered away with "True Believer", "Eurofighter" and "This Is The Way". Everyone went ballistic and it was one hell of a party. He went down into the crowd several times which seemed to be very popular among the Swedish girls that were present. At one time he actually handed the microphone to me during a chorus, so Danny, Nikolaj and I started singing the best we could. It seemed to enjoy Martin to see. Also - Danny got the microphone for himself during "This Is The Way" so he was singing while videotaping the performance. I wonder if that bit of the video was good :)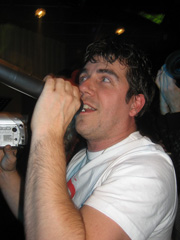 Danny (etype.nl) singing
"This Is The Way"

The sound system during the performance was quite a bit shaky and Sanne Karlsson's microphone suffered from it - she also had a bit of trouble with her throat that evening, so she left the singing of "This Is The Way" to Anna Nordell who entered the stage at that point.

It's always really special to see E-type perform live and this performance was absolutely no exception. It was awesome to experience - and it was great to see all the people at Blue Moon Bar having a great time.

The party continued for quite a long time after the last performance. We hung around Blue Moon Bar for a few more hours having drinks, talking, looking at photos and singing along to the music from the DJ.

At around 3 AM I saw out of the corner of my eye Johan Dereborn go to the stage to collect his 3 bass-guitars, so I went down to say hello. Danny and Nikolaj followed along shortly after. It was great to see him and to talk to him again. It's been quite a while, so we got to catch up a little bit. After a little bit of talking I heard someone call my name from behind me, and right after Martin shouted to Johan to get our "behinds" over there.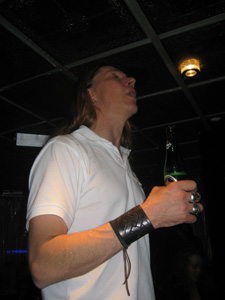 Martin singing a drinking song

Martin had sat himself at our table, so we could have a great little intimate talk about different things. It was really nice and we even got a little performance of a Swedish drinking song.

Getting kicked out!
Unfortunately since the party had died out pretty much at that time (most people left the party around 2 AM (on a Thursday mind you), the bouncer at Blue Moon Bar thought it was for him to get off duty, so he came at 3:30 AM and tried to rush us to go home. That was a real pity because we really had a good talk going on. It did, however, still take us about 20 minutes to stop our talk, find our coats, say goodbye and be on our way. A great evening / night has passed by in the blink of an eye and we were now standing in the middle of Stockholm at 4 AM trying to figure out how to get back to our hotel which was 5 km away. There were no busses, so we went to see if the metro was going. The entrance to the nearest metro was oddly enough open, so we entered and went down to check it out. Next metro: 5:07 AM. Then we saw that we were actually the ONLY people down there and a guy came around the corner cleaning the area. It seemed we had been trespassing, so we quickly went up the stairs and out on the street before he noticed we had even been there. Instead we found a taxi who got us back to the hotel at a fairly reasonable price.

Now we were also really beat after travelling 600 KM in one day plus being at this great party for so long, so we went straight to bed only to sleep for a few hours as breakfast in the hotel would be taken off the tables by 10 AM. After we had a nice breakfast we packed everything up, booked out of the hotel and started the long drive home. 600 KM from Stockholm to Denmark - I knew it would be hard for me, but I was glad I had people with me to keep me company. At one point my little Toyota Yaris actually drove past a nice yellow Ferrari. Now that is pretty odd, huh? ;) Anyway, well back in Denmark after a little ferry-ride I dropped off Nikolaj and Dorte at his parents' house whereafter I drove to Copenhagen to drop off Claire who lives there. And then it was just me left - and I had about 230-240 KM of driving left before I was home - a little bit boring but it was a good thing I had Eurotopia I could listen to on the way home! :)

---

Lastly I would like to thank the following people:

Nikolaj, Dorte and Claire ... for wanting to take part in this journey and experience. It was an awesome trip indeed and you're fabulous friends!
Danny and Arjen ... for wanting to take that long trip from Holland to Stockholm both to be at the party but also to see me/us. Great to see you both again!
Carin and Bettan ... for being good friends and having a great time in Stockholm both before, during and after the party.
Christoffer ... for great company during the party. It was great finally to meet you and I hope we can be more in touch with eachother. Sorry I snatched a few of the song titles of the performances from your report - I hope it's ok :)
Johan Dereborn ... It was great seeing you again and great to see you in the band also. We'll stay in touch!
Universal Sweden ... for inviting me to the party and pulling some strings as for having a few friends to join in.
E-type ... for everything! For being who you are - for all the drink tickets and albums you gave - for pulling off a remarkable release party as always - for taking the time to be with us and to think about us even though you had SO many people to tend to at the party!

---

/// Morten
Webmaster