Written by NetRoam

Wednesday (March 24th, 2004)

Tonight at 8 PM it was time for the long awaited release of E-type's new album "Loud Pipes Save Lives". Yours truly and his girlfriend started off this day by getting up at 6 AM as we had an 8 hour trip to Stockholm ahead of us. At 6:57 AM the train left Vojens in the southern part of Denmark towards Copenhagen. 2½ hours later we came to Copenhagen for a 2-hour pit stop where we first got some lunch while waiting for Nikolaj (co-webmaster) to join us. At 11:20 AM the next train left Copenhagen towards Malmö and our final destination - STOCKHOLM. It was a 4½-5 hour train ride which was a pretty long trip, but we managed quite well with talking, listening to music, doing crossword puzzles and such.

Well arrived in Stockholm at 4:40 PM we went to hostel Mitt i City where we were to stay for the next 2 days, checked in and went to the room to relax for a bit. It was nice to lie down and not having to carry around our heavy bags (think we brought a few too many CDs on the ride - hehe). After having dinner at a small place we were on our way to Hard Rock Café, which was a 10-15 minute walk from the hostel.

Party oooon!
When we saw the Hard Rock Café with the big logo and all we all just knew it was going to be a great party. There was a big line of people wanting to get in - a whole bunch of motorcycles out in front of the café that belonged to a lot of E-type's and Johan's biker-friends at Independent MC Wermdö. We went to a guard at the entrance stating our names and as Niklas Ekström - tour manager for E-type - overheard us he went to the guard since the guard couldn't find our names saying that we were listed under "personnel", and we were welcomed and greeted by both Niklas and the friendly staff at Hard Rock Café. Once inside we got 4 small tickets. 2 for a free beer/cider/wine, 1 for a free Budweiser beer and finally 1 for a free Smirnoff Ice, so it was great to get some free alcohol at the party. :)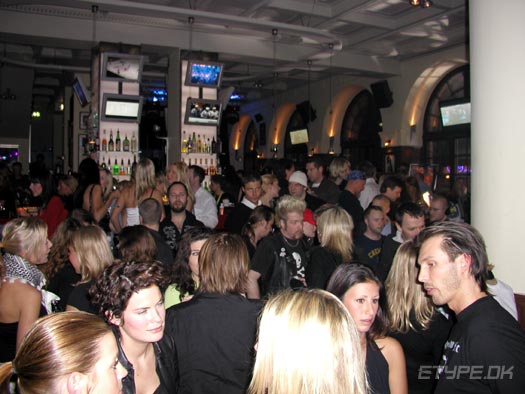 Hard Rock Café filled with people

The actual café was pretty big for a café and they had cleared a little area a bit above the ground level where they had set up a small stage which looked really cool, and there were flat screen TVs all over the café showing E-type videos during the entire evening / night. When we entered we quickly spotted Martin who already were in a hurry with everything greeting everyone coming in, talking to friends and preparing for the evening to come. Johan (bass-player, conductor in E-type's band and great friend of ours) was also there. We greeted him, hugged and got a little chat about the party. He had been arranging the entire party for weeks so he was a busy man that night - we also got a chance to speak to his girlfriend before both Martin and Johan left to prepare for the stage performance. During this time Danny from www.etype.nl called me to hear how things were going, but unfortunately I couldn't hear anything he said, so we had to cut off the connection, as I wouldn't get anything out of it.
While preparing for the performance we went to the front of the stage where we stood talking, taking photos and looking for celebrities. Among others we saw Emma Andersson (winner of the Swedish version of "Survivor"), Nana Hedin, Pontus Norgren, Fredrik "Mud" Ekdahl, Johan Amatiello (producer), Tess Mattisson & Marie Serneholt (from A*Teens). We also ran into biker-friends and Viking-friends of E-type, so it was a nice and versatile audience that night :)

Now it was time for the performance. The band entered the stage with Andreas Dahlbäck on drums, Roger Gustafsson on guitar, Johan Dereborn on bass, Therese Löf and a new girl as backing vocals, 3-4 people in the back on trumpets and of course E-type (Martin) in front. But before the band started playing we could hear some bagpipes in the background and up from a downstairs level came a 4-5 person bagpipe-orchestra playing the "Loud Pipes Save Lives" intro – the band joined in with bass, drums and synths and it was simply a breathtaking experience. Afterwards E-type welcomed everyone to the party and lead all through a night with performances of many different artists. The first person to enter the stage was a guy who made a Dean Martin act which was rather amusing and good followed by a performance by Peter Lundblad.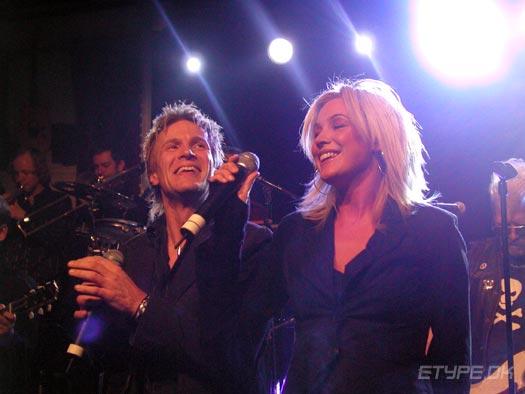 Fame performing live with their Melodi-
festivalen song "Vindarna vänder oss"


Later on came performances from Melodifestivalen participants Fame (with their song "Vindarna vänder oss"), Tommy Körberg, Dag Vag and afterwards Anne-Lie Rydé who sang a modified and very great version of Cornelis Vreeswijk's samba song known from the Danish TV-commercials for BG-Bank. Mikael Rickfors took over before it was time for a little break in the festivities. What we didn't know at that time was that the backing vocalists were going to change clothes and prepare for the final performance, which was...

E-type's amazing and high-energy performance!
Of course E-type had to perform with a few songs at his own release party. The band came on stage once again - only this time we had Pontus Norgren joining the band as an extra guitar-player and Mikkey Dee took over the drums and now it was time for a hard rock performance that would blow the roof off. They played a high-energy hard rock version of "Here I Go Again" which sounded absolutely amazing. Everyone on stage was fired up and determined to give it their all. The crowd was ecstatic - and if possible they got even more excited, enthusiastic and pumped up when E-type started performing "Paradise". The audience was rocking along, the band was having fun and it was an unforgettable performance! The photos from the release party is the proof of that.

After a few hours of different performances the band left the stage and the party continued with music played by the DJ in the bar. E-type's own songs "Camilla" and "Dans La Fantasie" were played many times during the night - the first time ever played in full, which was amazing to hear. We knew at that point that E-type wouldn't disappoint with the new album and he sure hasn't.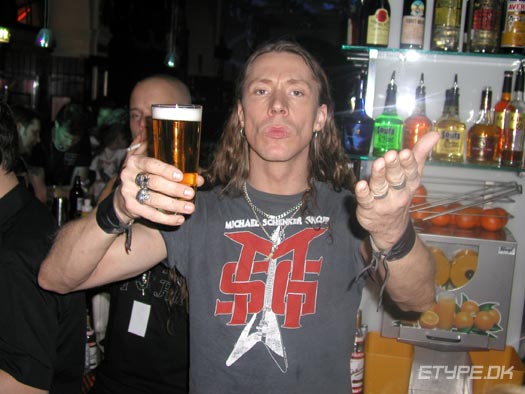 E-type's toast to the photographer

During the next many hours we got some drinks, went around the café having a good time. At one time we sat down talking a bit as we saw Nana Hedin and Mikkey Dee talking for a bit. Nikolaj quickly took my camera and went up to take 2 amazing and rare photos of them. Later on we saw Martin going to the bar to be a guest DJ, so we went there to see him. At the time he was switching records and playing some of his own favourite songs and he even put on "Dans La Fantasie" at a point and we just sang along to it - awesome!

The time was close to 3 AM and the café was emptied out a bit. The café was near it's closing time and Johan came up to us to talk for a bit. It was a really great talk we had - he had been so busy all night so it was nice to have a nice little chat. He asked us when we were going home, and we replied that we wouldn't go home until Friday at noon. "Well, in that case", Johan said, "Why don't you join us tomorrow evening as we're going to Radiogalan 2004 at some place close to Gröna Lund?". We just couldn't resist the very tempting offer, so of course we accepted. Johan then called and made the arrangements so we could come in and experience the Radiogalan the day after. So we agreed that Johan would pick us up the night after in the centre of the city and drive us there so we wouldn't get any problems getting in. We were really excited about it all.

At 3:40 the bar closed and we went outside making the final arrangements with Johan and said hello to the monitor-technician Steve Persson. 15 minutes later we entered the hostel and went to bed with the great memories of an awesome party.


Thursday (March 25th, 2004)

Our cell-phones alarmed us at 9 AM for us to get breakfast, but we were too wasted, so we let breakfast be breakfast and fell back to sleep. At 1 PM we woke up realizing it was rather late, so we got up and ready. Half an hour later we were going towards Drottningsgatan (the pedestrian street of Stockholm) and on the way we came across a Burger King where we got a bit of lunch (brunch maybe?). The next couple of hours we spent walking a bit in the city - going to PUB to see the place where E-type shot the video for "Life" - went inside PUB to look at the different stores and to see if the new album had entered the CD-stores. When we came to T-Centralen we also went inside Åhléns to look at the stores and even went to the CD-store where E-type signed Euro IV Ever back in November 2001 when we were there. There my girlfriend found most of E-type's albums at a reasonable price so of course she had to buy them all. She's really become an E-type freak, which is really great! Further down Drottningsgatan we went to see the old city (Gamle Stan) where the royal castle was. We had a nice stroll down the old streets of Stockholm even though it was a really cold afternoon. Many hours have past exploring Stockholm so it was time to get some dinner, so we went to nice little place where we got a great lasagne.

After resting our poor feet for a few hours back at the hostel, it was time to get back to the centre of the city where we had agreed with Johan during the day to meet in front of Åhléns, so we could go to Radiogalan 2004 together. It took place at a nice place called Tyrol right next to Gröna Lund on Djurgården. Once there Johan found out that he forgotten his bass back home, so he was a bit in panic calling the people behind the Radiogalan if he could borrow a bass from one of the other performing bands.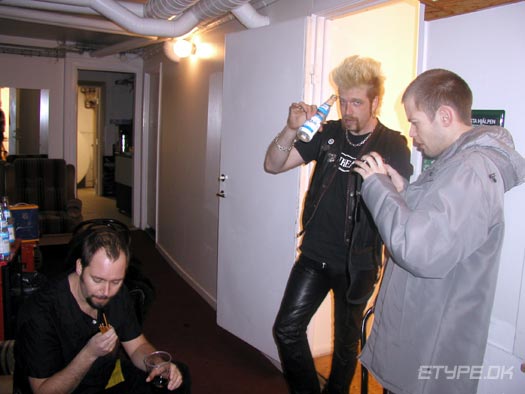 Roger, Johan and Nikolaj backstage
at Radiogalan 2004

Luckily the E-type performance tonight was only playback, so he should only "act" as it he played, but it was still a kinda frustrating situation for him - but it all went out to the best :)

We entered Tyrol through the backstage entrance and went down to a little backstage room where we sat and spoke a bit with the people while waiting for Martin to show up. Close to Showtime Johan had a backstage crewmember take us to the front of the stage so we could enjoy the performance and take photos whereas we could go back to the backstage area afterwards. At the backstage area we could just take whatever we wanted - if we were hungry or thirsty - no limits. Really great to know :) As we entered the Radiogalan 2004 room the presenters had just announced a special price of honour for some person, I didn't know who was. After the thank you speech it was time for E-type's performance so we stood among the crowd and shot photos and singing along the songs. He performed with "Life" and "Paradise" which looked really great even though it was playback :)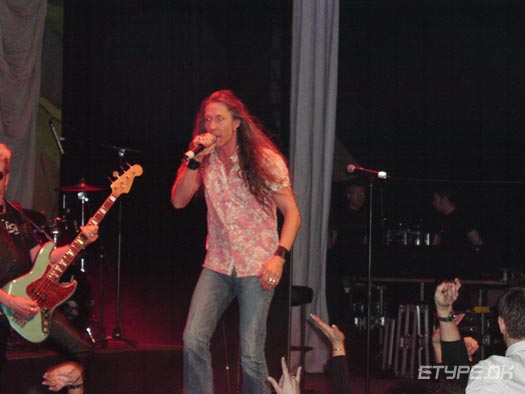 E-type performing at Radiogalan 2004

As E-type left the stage we went back to the backstage area to meet with Martin, Johan and the others again. It was a really tired Martin we met - he was still suffering a bit from his eye-infection and he was tired from the day before as he had been up early signing autographs 2 different places before going to this Radiogalan performance, so it was understandable that he wanted to go home and get some rest. After taking a photo of us all with Martin we said our goodbyes and the 3 of us got a ride back to the city by Erik Stenhammar and the backup vocalist. That was very nice of them to do that for us. A really great evening had come to an end and we were back at the hostel around midnight. We went to bed not long after that :)


Friday (March 26th, 2004)

Today we got up at 7:15 AM as we had some things to take care of before taking the train home at 12:20 PM. Unfortunately - some of those things ended up being a bit confusing and therefore we decided not to do more about that - instead we went to the T-Centralen where we met a girl from Stockholm Records who came with a bit of money we had agreed upon. At T-Centralen there was a grocery store at the bottom floor so we bought a few sandwiches and a bit of beverages for the train ride home. As there was still a little bit of time we went to Skivhuset to buy the rest of the E-type albums that Åhléns didn't have the day before, so my girlfriend could have the entire collection.

The time was getting near noon so we checked out of the hostel and went to the central station. The train was waiting and we got on board. 5 hours later we were back in Copenhagen where we were to have a little pause of 2 hours before going back to Vojens. There we got some dinner at McDonald's and went around the train station a bit.

At 7:30 PM we went our separate ways. My girlfriend and I went back to Vojens where we arrived at 10:10 PM and Nikolaj went back to Hillerød where he lives. An amazing trip had come to an end and we could now spend the weekend on reloading before the everyday life again would start on Monday. We're already looking forward to the summer tour. See you back on the road then!