Review written by Henrik Kure [December 7th, 1998]
[translated to English by www.etype.dk]

Copyright © 1998-99 www.boot.dk


Ratings:



90's pop in medieval-look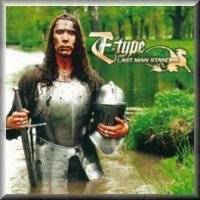 Well, we have to say it right away - if your expectations of E-type's new album "Last Man Standing" were based upon a dance-record stuffed with hits like "Angels Crying" & "Here I Go Again", you could just wrap those expectations thoroughly into Christmas paper and send them off to the North Pole. They aren't true in 7 of 10 occasions. E-type has, however, generally turned down the rhythm and moved towards rhythmic radio pop and ballads!! Guess there weren't that many who would have expected to hear a ballad from him?!

The style, which is frequently used on most of the tracks reminds us of Papa Dee's songs, such as "The First Cut Is The Deepest" & "The Journey".
It's a pretty weird album all in all, which - despite the expectations of a record with hits directly for the dance chart - has the hit potential to become a mega-seller!! E-type is wearing an armoured suit on the front cover and a lot has been done to make it look like the Medieval times; not just the cover, but also a couple of the songs.

Last Man Standing starts, for instance, with a nice act with drums, flutes, violins, harps, trumpets and everything which makes us imagine the perfect image of a marketplace in front of a castle - an image which we all know from the Robin Hood movies. After the superhits "Angels Crying" & "Here I Go Again" the excitement is at the bursting point - and then the unexpected happens: An ordinary radio-pop track (?) appears in the shape of "Princess Of Egypt". But it isn't "quite normal" - it's namely a real potential hit, which in its original form is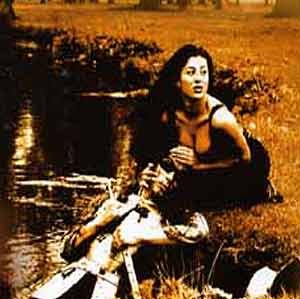 right for the top of the airplay- or the singles charts - and if a remix should be made, there wouldn't be a single empty dance-floor left in Scandinavia. THAT is the main theme throughout the tracks on "Last man Standing". As a bonus-track there is a country version of "Angels Crying", and it's called "Angels Country"! It's actually really great - and I'm certain that E-type could get a good career as a country singer, if that's what he wanted.

Luckily there are also dance tracks on the record, and of them there is nothing to say - E-type IS the master! There are tracks like "I'm Flying", "I'll Find A Way" & "So Far Away", which prove that "Angels Crying" & "Here I Go Again" weren't luck - but talent!

A lot of the lyrics are mysterious. For instance, it has to be the first time the word "Horse" is mentioned in a pop-track, like it's the case in the chorus of "Hold Your Horses": - "Hold Your Horses tonight, everybody's here now / lose control for a night, 'till the morning comes".

The album ends with "PoP Preludium" - the whole album is dedicated to E-type's good friend: the super producer Denniz PoP, who died earlier this year of cancer.
That's the reason it says in the cover how to send money to Denniz PoP's memory-fund. It's E-type himself, who has produced most of the album and written most of the songs, but with the help of a couple of talented songwriters. On "Last Man Standing" E-type proofs his comprehensive talent - and that he doesn't just know how to make dance hits!! Incredible album, which is essential in every decent record-collection!