Review written by Eurodance Hits WWW [November 2001]

Copyright © 2001-2002 Eurodance Hits WWW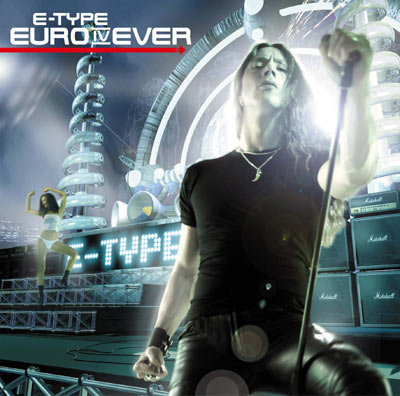 It has been a long time since E-type last album "Last Man Standing". Well ... E-type is not only still standing but as a matter of fact is glowing bright! This brand new full album which was released on November 21st, 2001 is exactly what all eurodance fans were waiting for.

The name of the album "Euro IV Ever" points to what the style of the album is indeed. Martin Eriksson (the man behind the name of the project) proved to be a King of Scandinavian dance. This album once again showed that this title is well deserved. Here you will find several slamming euro tunes to die for. Of course "Life" is here. This particular title was released on single (November 12th) and immediately climbed on highest positions in Scandinavian charts and surely will be hitting Pan-European charts as well. Typical E-type style with big room instrumentation and smashing rhythm. He is accompanied by beautiful, made for euro sound female vocalist Na Na. No doubt a chart crasher!

Well ... there are more euro tunes to die for. This album contains several fares that surely are to be my favorite euro cuts these days. One of them is "Time" (with Na Na again). This marvel clearly reminds of such hits as "Angels Crying" or "Here I Go Again". Simply priceless for euro lovers. This tune is hypnotic, filled with intense synth work. There are indeed many other tunes that are worth to be mentioned like "Africa" or "When I Close My Eyes" another intoxicating euro to cause pandemonium on the dancefloor!).

Not only fast tempo songs are featured on this album. You will find many slower ones and some of them are actually in different styles. In these songs E-type used multinational flavors. For instance in "Banca Banca" he's fallen for some salsa sound. In "Arabian Star" you will find oriental elements (very exotic and fascinating track at low BPM). In "Borschstjii" you will hear elements of Russian folk music. Don't be mislead though, still at high BPM and in good euro style. Great combination and masterfully done fusion. From truly slow tunes I recommend "Star". It's a beautiful love song to dance in two with bodies tight to each other. On the album you also find "Campione 2000" - the anthem of the European Soccer Championship in 2000.

Taken together this album is a true dance masterpiece that will bring emotions to your heart and unstoppable desire to dance. I would like to congratulate E-type and Stockholm Records for delivering such a gem. I strongly plead to all of you to get this album and support such a fine production. We all should make sure that albums like that could surface. However, only good selling points can help. So do euro community and yourself a favor. Buy this album when it is available!


Thanx to Eurodance Hits WWW for letting us post this review!