Review written by Troy Matthews for euronrg.eurodanceworld.com [November 2001]

Copyright © 2001-2002 euronrg.eurodanceworld.com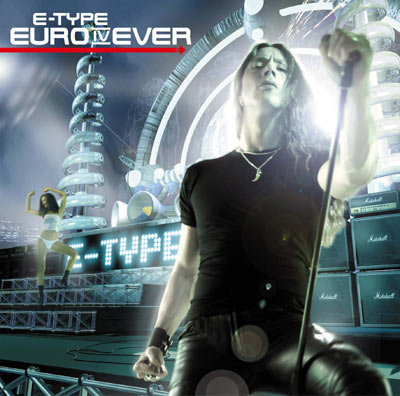 This is literally 2001's #1 Euro-NRG CD release, by an artist! E-type boldy returns with a glorious new album that has already spawned a #1 single in Europe, "Life" (single #2 "Africa" is next.) His brilliantly talented female vocalist affectionaly called Na Na is back on six of the album's 13 tracks. Admittedly, the songs she contributes with her amazing voice to are my favorites (not taking anything away from Martin's prowess!).

The lead single "Life" is absolute true to form, award deserving Euro-NRG. It remains the only track found on "Euro IV Ever" (love the industry defiance guy!) that legendary Swedish songwriter Max Martin contributes his golden touch skills to. This is just a song you gotta hear to believe. "Africa" is also quite stunning as well, as we get to hear E-type explore some different musical structures based on that continent's style (in his smart interpretation.) The other gems Na Na presides over are "Arabian Star" (hmmmm... this could have been put off until the next CD, you know what I mean?), "When I Close My Eyes", "Time", and the astounding "No More Tears".

Song eight called "Star" is E-type all alone in the mix, yet he gets full marks for that, great work Mr. Eriksson. You can sing just as well as contemporary pop offerings like any credible Backstreet Boys down tempo ditty. Too bad that talent of yours is often overlooked. The wait between "Last Man Standing" and this CD was well worth it, as it has already rocketed to the #1 position on my best Euro CD for 2001.

So there! Anyone from Universal US or Canada paying attention? I hope so, heck, you licensed DJ BoBo in the mid 90's didn't ya? The Euro sound created by E-type has been brought up to speed and ready for 2002, so music execs and radio programmers check him out, your listeners, dancers, and buyers will prove me right. I've played the track to death at the club and it fills it to the brim ... EVERYTIME GUYS. Just put some well earned cash into promoting E-type, as this part of the 'marketing' wheel seemed to be mysteriously overlooked on the last CD. Enough banter.

Ratings:




Thanx to Troy Matthews for letting us post this review!